The Belt & Road Initiative: 7 Considerations for CEE & Europe
The Poland & CEE: Co-Building the Belt & Road conference took place in Warsaw this week. Its primary focus was to look at the Chinese-led Belt & Road Initiative (formerly One Belt One Road) from a Central and Eastern European standpoint. How can the CEE region benefit? What are the obstacles? What are the concerns and opportunities?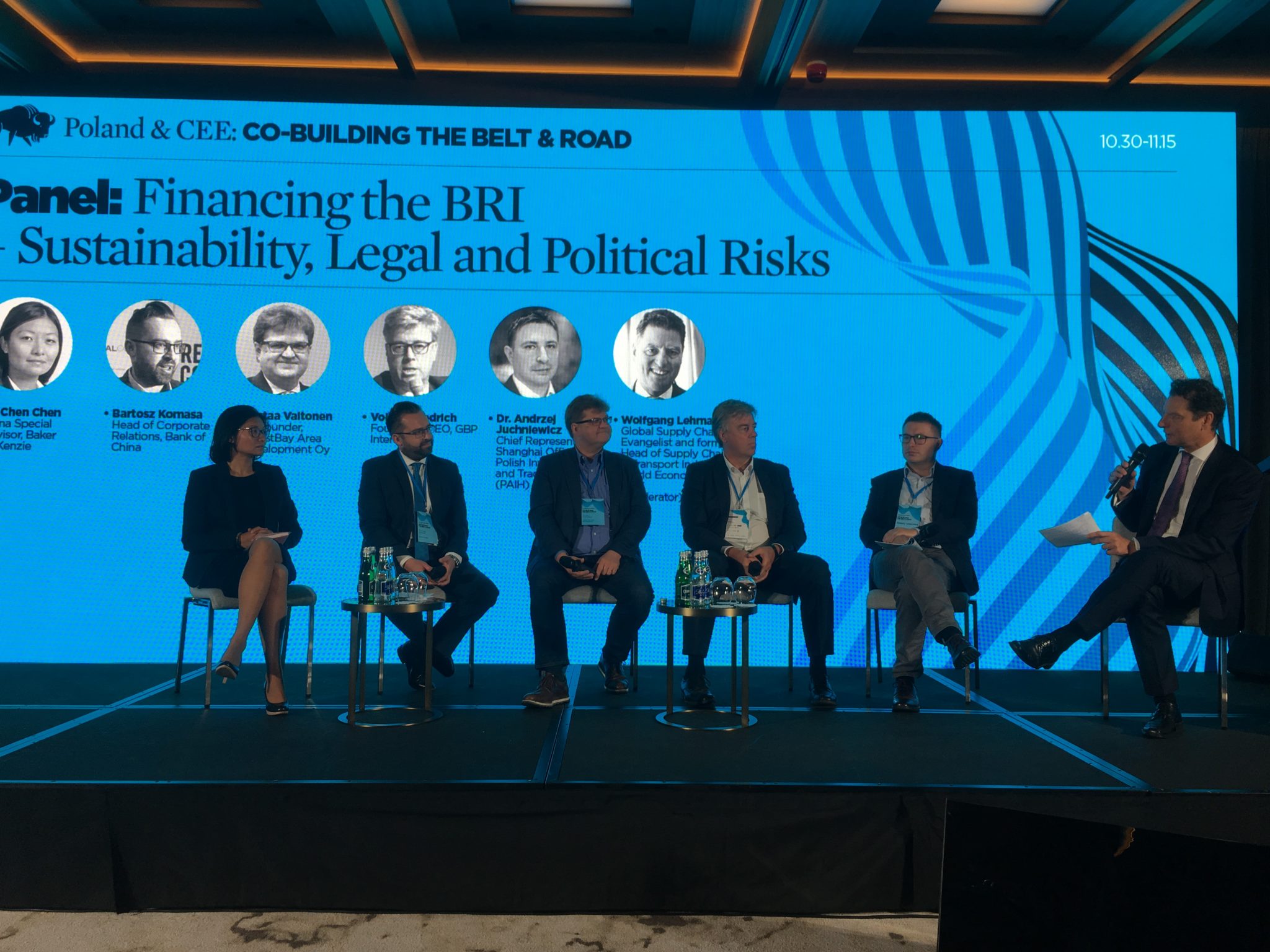 Over the course of two days, during which a variety of high-level speakers from both industry and the political sphere addressed the participants in presentations and panel discussions, the following issues stood out:
Political Considerations
With money comes influence.
The Belt & Road Initiative (BRI) is a Chinese programme. The Chinese Ministry of Foreign Affairs set up the 17+1 (that is, 17 CEE countries and China) co-operation to further its aims. From the European perspective, Wolfgang Lehmacher voice the concern that there could be divided loyalties for the CEE nations. Any kind of fracturing of EU unity for example, would be highly undesirable.
Dr Lúcio Vinhas de Souza, Head of the Economics Team at the European Commission's in-house think tank, the European Political Strategy Centre, added to this concern by saying that the EU was "losing the narrative". EU investment in the region far outweighed anything China was doing in this regard, yet the EU is not viewed with the same favourability.
The EU has long used trade and investment as its instrument of soft power – in insisting on environmental and labour standards for example. Consequently it is not unaware that China can and will wield the same.
Another major current issue of course are the US-China tensions. Should Europe step away from engaging with China so as not to anger its Western partner? Or is Europe in fact the best business partner for China as it is unencumbered by baggage?
Technical Considerations
One of the main technical aspects hampering the overland rail cargo route between China and the EU is the border crossing between Belarus and Poland (where the rail network switches from Russian gauge to standard gauge). The Małaszewicze-Brest crossing is a known bottleneck hampering the ability to process an increasing amount of freight.
Financial Considerations
It is currently the case that China subsidises rail freight running between it and the EU. However, these subsidies will not stay in place forever. They are likely set to be reduced gradually over time, bringing an increased cost to shippers and logistics companies.
Regulatory Considerations for the CEE States
Coupled with the concern that the current border infrastructure is not up to the job, there are regulatory issues for Poland as well. Two points mentioned in this regard were VAT and customs rules. Chinese companies such as Alibaba have chosen locations such as Belgium and the Netherlands because of their simpler and more flexible implementations of the regulations.
Co-operation Versus Competition
A further key talking point focused on co-operation versus competition. Individual countries striving to profit from the China-led initiative could well end up competing with their neighbours. For example, Poland is a key gateway country for overland cargo entering the EU. However, a route via Ukraine and then Slovakia and Austria is potentially more direct. In fact, following Russia's suggestion in 2008, Breitspur Planungsgesellschaft is constructing a broad-gauge (1520mm) railway line through Slovakia and into Vienna (Austria) to eliminate the need for freight trains to switch bogies. This would also reduce the chance cargo could be damaged.
On the other hand, the Belt & Road Initiative is so huge and China is such a large country that it was pointed out there is no need to be concerned about competition – there is enough business to go around for everyone and one single border crossing could not possibly handle all the freight anyway. Another suggestion that was made was that different hubs in different CEE countries could specialise in different services, thereby developing a more collaborative approach.
Regarding rail in particular, only 2.1 percent of Europe-China trade was transported by rail in 2016. There is clearly much room to grow.
Geographical Knowledge
One of the elements Poland and the CEE region in general has to address is that from the Chinese perspective, Europe is very far away. It is viewed as a bloc and compared to the size of China is it quite small. As a result, China is more familiar with the well-established hubs such as Frankfurt and Amsterdam. Poland and the CEE region must therefore perform engagement work to explain the benefits of the CEE region, geographically and otherwise.
It makes sense of course, when we look at it in reverse. Can we name all 18 cities in China that have a population of more than 5 million? Do we know where they are? Beijing and Shanghai are about as far away from Europe as you can get. Chinese factories have been moving further inland from coastal regions, making rail more attractive. This also means European operators in the market need a keen understanding of the Chinese landscape.
Cultural Knowledge between China and Europe
Another area where mutual knowledge is lagging behind is in the cultural sphere. What is the European understanding of China and Chinese businesses and vice versa? How are things done there compared to how they are done in Europe. One specific project that was mentioned in this context was the highway in Poland the Chinese company COVEC was to build, but failed.
It is in part this lack of cultural understanding that underpins Western suspicion around engaging with a Chinese-led project such as the BRI.
What Lies Ahead?
Following this first conference, organised by Frank Schuhholz, Founder & CEO of FMS Advisers B.V. and Richard Stephens, Founder & Editor of Poland Today, Mr Schuhholz told Railway-News that he was planning on making this an annual event in three parts: two round-table sessions in February and October and one conference in the run-up to summer.
This conference has established a baseline from which progress and developments can be tracked. With the Belt & Road Initiative taking place alongside Poland's economic miracle, a feat celebrated at the event's gala dinner with a speech given by Poland's former Deputy Prime Minister (1994–97) and Minister of Finance (2002–03) Professor Grzegorz W. Kołodko, Poland and the wider CEE region are well set to participate in and benefit from the Belt & Road Initiative. And an economically confident and strong CEE region will only strengthen the EU as a whole.
Also read: