Long-Distance Rail Journeys up by 8% in Russia
Latest data indicates that long-distance rail journeys and passenger numbers increased by 8% in July 2016 on the Russian Railways network. 96.5 million passengers travelled on Russian Railways-owned routes in July 2016, an increase of 0.5% from the same month in 2015. Long-distance passenger journeys rose by 8% to 12.5 million. Meanwhile, suburban passenger numbers dropped by fell 0.5% to 84 million.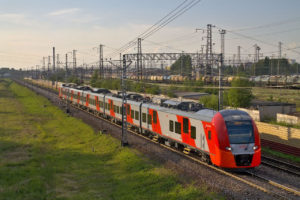 Passenger turnover in July 2016 totalled 16.1 billion passenger kilometres. This is 7.2% more than in July 2015. From January to July this year, a total of 580.4 million passengers travelled on the Russian Railways network, which is a drop of 0.5% from January to July last year. Long distance passenger numbers totalled 57.9 million, which is a rise of 3.7%, and suburban passengers fell by 1% to 522.5 million passengers.
Since January of this year, passenger turnover on the Russian Railways network has increased by 3.1% as against last year, which totals 69.9 billion passenger kilometres.