EC Encourages Women in Transport
In light of the statistic that women make up only 22% of the workforce in the transport sector in Europe, the European Commissioner for Transport Violeta Bulc, joined by Commissioner Věra Jourová in charge of gender equality, organised a participatory to encourage women in transport event on 21 April 2016, and have released a series of videos profiling women in the transport industry.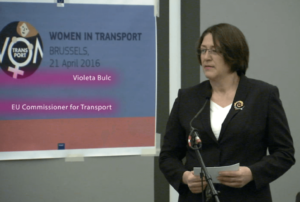 The move centralises efforts by Member States to close this gender gap for women in the sector. The videos discuss the skills and attributes that women can bring to the sector, strengthening it from both a customer facing element and from an internal point of view.
Technology has evolved the industry to the point where physical strength is no longer a key skill for success. This has opened the sector to women like never before. These drives, to make transport a more attractive option for women, combined with increased uptake of girls and women in STEM subjects, seek to redress the gender gap in the industry.
Violeta Bulc, EU Commissioner for Transport, said at the event:
"We see so many opportunities evolving… unattractive job propositions, pay gaps, working hours and being away from the home are certain issues for women. An important step is a commitment towards to make transport more gender balanced and improve this image. We are not here to take over, we are here to cooperate."
CER and Women in Transport
At the Women in Transport event in Brussels, rail stakeholder group CER published a series of recommendations to improve the representation of women in the rail sector. Their recommendations include the introduction of a charter for equal opportunities for companies and trade unions, positive actions including improving work-family balance with flexible working hours and child-care support, and training and health and safety literature which better represents women in the rail community. The document also emphasises the importance of bringing making the industry a viable place to work for both genders.