Deutsche Bahn (DB) and Fortescue Future Industries (FFI) have signed a declaration of intent to work together on the development of an emission-free ammonia-hydrogen engine.
The advantage of this technology over a pure hydrogen engine is that ammonia has a higher energy density than liquid hydrogen, making it easier to transport and store.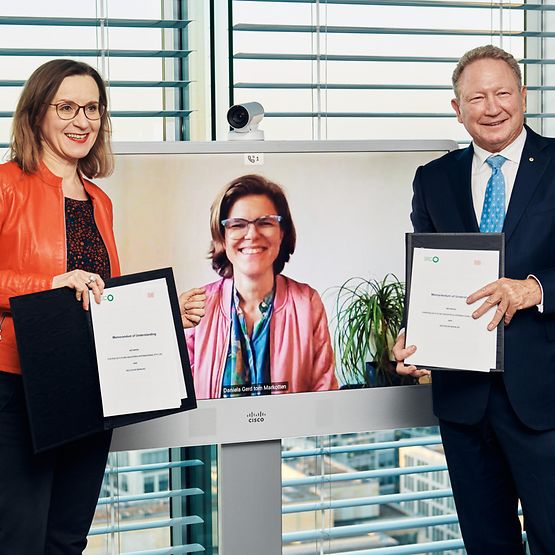 The partners are each investing a mid-range, six-digit figure into this project and will now work on modifying diesel engines for locomotives and traction vehicles so that they can be operated with green ammonia and green hydrogen produced from renewable energies.
A key aspect of the ammonia-hydrogen engine is a 'cracker', which splits a small part of the ammonia outside of the engine into hydrogen and nitrogen.
The hydrogen produced in this way is then mixed with the remaining ammonia as an ignition gas to ensure CO2-free combustion.
A prototype engine is currently being tested on an engine test bench. DB and FFI plan to further develop this technology with, amongst other things, endurance tests and emission measurements.
"We're saying goodbye to diesel and relying on the latest technologies, including the ammonia-hydrogen engine.
"This innovative engine makes it possible to continue operating existing diesel vehicles without producing any emissions.
"Our customers are already travelling in the most climate-friendly means of transport. By 2040, Deutsche Bahn will be completely climate neutral."
The new partnership agreement also supports the two organisations working together on green supply chains for hydrogen and ammonia – specifically their production, transport and distribution.
Australian energy company FFI wants to produce hydrogen in large quantities and sell it globally in the form of green ammonia.
DB is currently testing a wide range of solutions for the use of hydrogen and could be a customer with a large internal requirement.
At the same time, DB Cargo is currently developing efficient and green logistics concepts to bring hydrogen and hydrogen derivatives such as ammonia to the industry.
"Climate-neutral mobility begins with green supply chains on the rails. We can already transport liquid-bound hydrogen in conventional tank wagons. It's efficient and uncomplicated.
"Our goal is to develop further logistics solutions for hydrogen, because rail is the most climate-friendly form of transport. One train can replace 52 trucks."