Deutsche Bahn and Siemens have commenced testing for the Mireo Plus H hydrogen trains along with the mobile hydrogen refuelling process.
This marks the next milestone in the H2goesRail project.
DB CEO Richard Lutz, Siemens CEO Roland Busch and State Secretary Hartmut Höppner are taking part in the first test drive with the Mireo Plus H and its mobile refuelling process, which will be used in regular passenger service from 2024.
The mobile hydrogen refuelling process will be demonstrated upon the hydrogen train's arrival at the Siemens test centre in Wegberg-Wildenrath (NRW).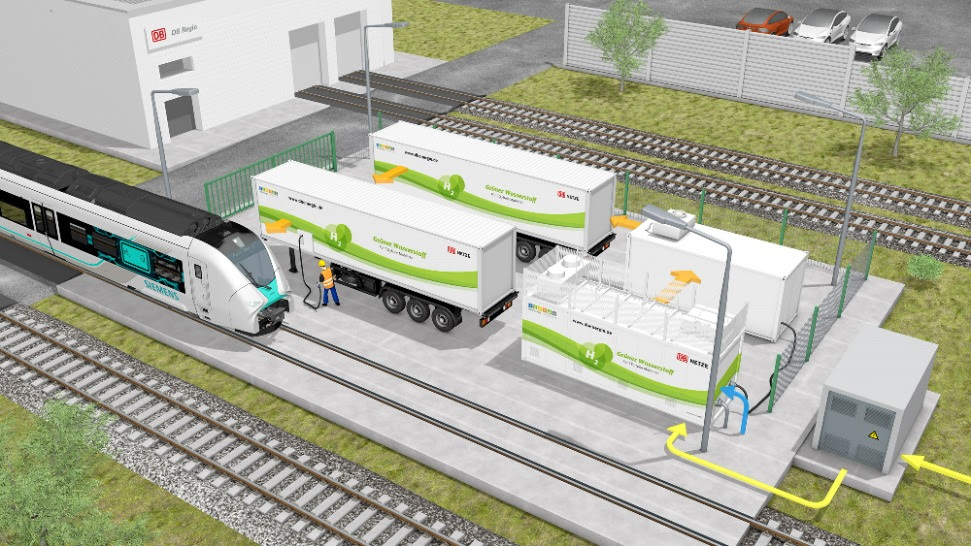 "Hydrogen is part of the mobility of the future. I am therefore very pleased that we have reached the next important milestone in the H2goesRail project today. Our goal is clear: by 2040, Deutsche Bahn will be climate-neutral. An important lever here is saying goodbye to diesel. With our development of a mobile hydrogen filling station and the associated maintenance infrastructure, we at Deutsche Bahn are once again showing what outstanding and innovative drive technologies look like and how climate-neutral mobility of tomorrow will work."
To ensure hydrogen technology is competitive with the previously used diesel fuel, it is necessary to have a fast refuelling process. That's why DB has developed a new method where hydrogen trains can be refuelled just as quickly as a diesel multiple unit.
The hydrogen is produced by DB Energie in Tübingen using green electricity that comes directly from the overhead line.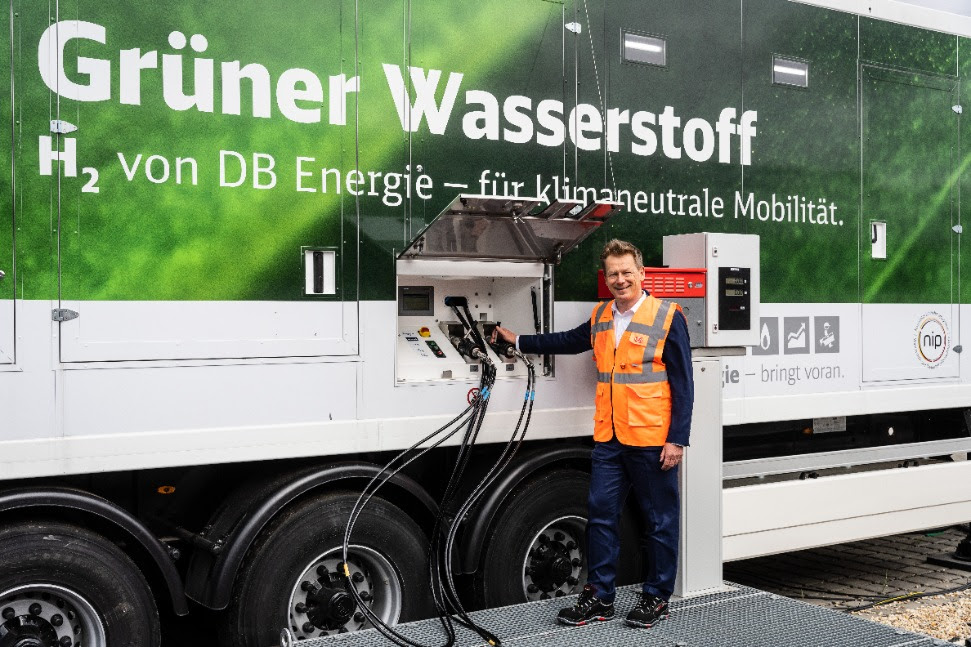 © Deutsche Bahn AG
Siemens and Deutsche Bahn first presented the H2goesRail project to the public in November 2020. The project is funded by the Federal Ministry for Digital Affairs and Transport (BMDV) as part of the National Innovation Program for Hydrogen and Fuel Cell Technology.
"Today, with our partners, we are taking a decisive step towards the future of climate-neutral transport. The new Mireo Plus H train does not emit any emissions. It has a range of around 1,000 kilometers, can reach speeds of up to 160 km/h and can be refuelled quickly. A single train saves up to 45,000 tons of CO 2 over its service life of 30 years compared to car journeys."
Deutsche Bahn and Siemens Mobility are due to present the H2goesRail project and the Mireo Plus H as well as the hydrogen filling station at InnoTrans 2022.