Complete Train Seating Solutions to be Shown in Prague
Railcar interior specifiers will find complete train seating solutions at Railway Interiors Expo 2017, to be held in Prague, Czech Republic, on November 14-15, 2017.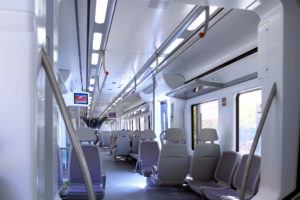 A seat described as "the first antibacterial seat in the world" will be highlighted by supplier STA 2000 (Stand 1090). The modular Romeo range was designed in Italy to offer the advantages of low weight, high strength, great ergonomics, modularity and protection from vandalism. The 'plastic-free' seats are available in aluminum or wood. Aluminum versions can be supplied with wooden, soft or fabric pads. School bus models come with seatbelts. Flip and tip-up seats are also available.
Meanwhile, another seat supplier, Ruspa Officine (Stand 2055) is celebrating its 80th anniversary this year by showcasing its capabilities in the design and production of interior and exterior equipment, including seats.
Complete Train Seating Solutions
Beyond the seats themselves, several companies will show complementary products. For example, seat tray tables that facilitate the hands-free use of PEDs are available from SmartTray Rail & Bus (Stand 2030), which works with companies around the globe to integrate and deploy these patented solutions in the transportation sector. The tray tables are also designed to provide enhanced ergonomics, better space management and improved comfort over conventional tray tables. The company has begun the registration process for ISO:9000 and AS9100. Each seatback or in-arm solution comes in a wide field of envelope sizes. SmartTray Rail & Bus has the flexibility and the in-house resources to create a custom tray for each customer.
Seat-integrated reading lights will be shown by CML Innovative Technologies (Stand 1040). These lights utilise touch-sensitive switch technology designed for high reliability, and offering flexibility in terms of location options and the potential to add functions including intensity variation and colour adjustment.
Free-to-Attend Exhibition
These and many more innovations – from almost 100 exhibitors – will be on display at the free-to-attend exhibition, making it a vital showcase of all of the latest and next-generation railcar interior developments.
The show, which was launched in 2004, regularly attracts more than 2,000 attendees from all over the world. As well as the highly targeted exhibition, another big draw is the carefully curated two-day, two-stream conference, which, like the exhibition, is free to attend. This year almost 50 speakers will share their experiences and ideas – including representatives from Fraunhofer FEP, Idesign Sweden, NewRail, Ostende Vienne Orient Experience, PriestmanGoode, SNCF, Spirit Design and Vienna University of Technology. In addition, tangerine will treat attendees to exclusive design workshops. Networking opportunities continue into the evening of Tuesday, November 14 with a drinks party, which is open to all attendees.