Bombardier to Showcase Its Transport Solutions for the Nordic Market
Bombardier Transportation has announced it is participating in the Persontrafik exhibition. The show for the Nordic rail market will take place in Stockholm, Sweden, on 22–24 October. The transportation solutions provider will be located at stand C05:49.
Bombardier is particularly proud to present its energy-saving MITRAC TC1500 propulsion solution and its new battery-powered hybrid electric train. There will also be a virtual reality exhibit showcasing Bombardier's new metro train for the Swedish capital, the MOVIA C30. This metro train will run on the city's Red line. Bombardier's full range of solutions will be accessible via interactive touchscreens.
Anna Höjer, Head of Nordics and Managing Director Sweden, Bombardier Transportation, said:
"We are proud to present Bombardier's latest innovations for sustainable mobility at the Persontrafik exhibition, including our ground-breaking BOMBARDIER MITRAC TC1500 propulsion solution and battery-operated electro-hybrid train.

"Under our new slogan 'Together we move' we will showcase our complete value chain of high performing mobility solutions for metro, light rail, regional and high-speed applications, including trains, signalling and services solutions, many of which already keep our Nordic cities on the move."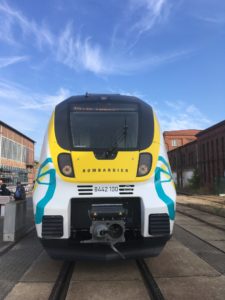 Bombardier's MITRAC TC1500
The MITRAC TC1500 ('TC' stands for 'traction converter'), which was both designed and built in Sweden, will be showcased at the exhibition. Trials for this product, which features silicon carbide technology, were successfully completed on the MOVIA C20 metro train, which operates on Stockholm's Green line, in March 2018.
Highlights of the trials' results were:
energy consumption down 35 percent
noise emissions down 35dB
a size reduction of 51 percent
a weight reduction of 22 percent for the propulsion system
Seminars at Persontrafik
During the upcoming event Bombardier will give two seminars that will focus on zero-emissions trains for the Nordic region. Bombardier only recently unveiled its BOMBARDIER TALENT 3 electro-hybrid train, which is entirely emission-free and is fitted with MITRAC traction batteries. This battery will also be installed for the Nordic market in the BOMBARDIER ZEFIRO Express BEMU (battery-electric multiple unit). Bombardier is confident that by next year it will have extended the range of its battery-powered trains to 100km, allowing them to bridge greater stretches of non-electrified track.
Seminar times:
Tuesday, 23 October, 10:30am–11:15am
Tuesday, 23 October, 3:15pm–4pm
Bombardier Transportation will also team up with Trafikverket and Länstrafiken Jönköping to discuss how the recent decision to bring in high-speed trains will impact regional rail traffic.
Time:
Wednesday, 24 October, noon–12:30pm
Bombardier's Current Projects in the Nordic Region
40 FLEXITY City trams for Gothenburg (option to extend to 60 more trams)
40 high-speed regional ZEFIRO Express trains (option to add 60 more trains)
Bombardier's Rail Control Solutions branch in Stockholm is implementing ERTMS in the country
Bombardier provides maintenance and support services for a number of rolling stock fleets