The first of 58 new trains for BLS is ready and Stadler and BLS have presented the new generation of FLIRT to the public for the first time.
As part of the roll-out the new trains were named MIKA. They are to replace three older vehicle types in order to secure the planned expansion of services on BLS's network. The trains will gradually enter passenger service from 2021. The latest-generation FLIRT will for the first time include Stadler's European Train Control System (ETCS) GUARDIA on the Swiss rail network.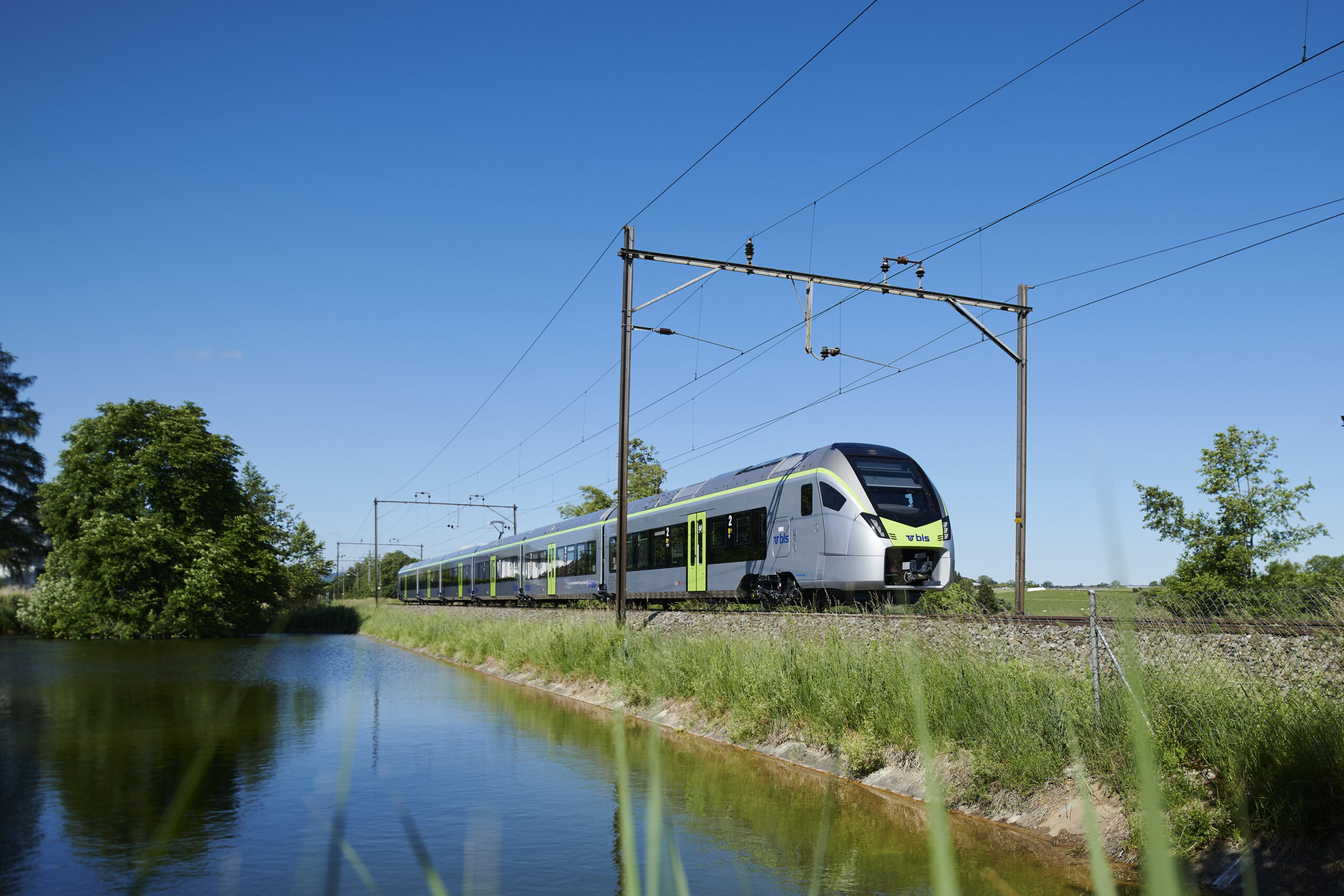 The train was presented by Bernard Guillelmon, CEO of BLS and Peter Spuhler, President of the Management Board and Group CEO ad interim at Stadler. The roll-out is an important milestone in the creation of a new train. The name, MIKA, stands for 'modern', 'innovative', 'compact' (German: 'kompakt'), 'all-round train'. BLS has a long history of naming its fleets. The double-decker multiple units, type Stadler KISS, operate under the name MUTZ for example. The name MIKA was chosen as part of a BLS competition.
"Our MIKA connects people and regions. It will soon bring our customers on the S-Bahn network in Bern and the RegioExpress routes safely and comfortably to their destination. I'm convinced the BLS has a train that will enthuse our guests. Our employees will also enjoy their new place of work."
The six-car trains have been designed in collaboration with customer groups and disability organisations. Both the S-Bahn and the RegioExpress trains have generously proportioned low-floor entrance areas, large windows and power sockets in both first and second class. The single-decker trains are 105m long. The RegioExpress trains also feature a catering area. From a technical perspective the S-Bahn trains (28 units) and the RegioExpress trains (30 units) are identical. The first route that will get the new trains in 2021 is Bern-Neuchâtel-La-Chaux-de-Fonds.
The 58 multiple units are replacing three older vehicle types and are therefore unifying the BLS fleet. Consequently, operations, timetabling and the regular servicing of the trains will become much simpler.
"It is always a great joy for the entire Stadler team to be allowed to develop and build a new train for our Swiss home market together with a Swiss train operator.
"Even though we only entered the signalling market in 2016, we can already offer BLS our own innovative and reliable train control system. That makes our business more independent, which will benefit our customers."
GUARDIA consists of hardware and software on board the train. The position, speed and other data are displayed to the train driver and transmitted to the control centre. At the same time the train can receive data such as movement rights. GUARDIA is an important milestone for Stadler.
Also read: