Alstom Win Pendolino Fleet Repainting Contract
Alstom have won the Pendolino fleet repainting of the West Coast Main Line in the UK. The fleet, 56 Class 390 'tilting' trains, are owned by Angel Trains and operated by Virgin Trains. The contract is worth €28 million.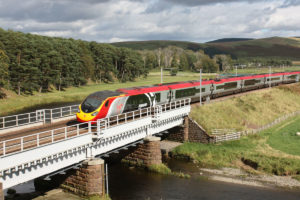 The project will be undertaken at Alstom's new Widnes technology centre. It will be the first project to be carried out at the facility, which is under development following being granted planning permission in May 2016. The facility is being built to accommodate the re-painting of the Pendolino Fleet. The centre will open in May 2017. The works on the Pendolino fleet will be completed by December 2019, with each train taking two weeks to re-paint.
The project will employ around 80 people at Widnes for the duration of the project, who will be trained at Alstom's North West Transport Training Academy which will be located at the site. The Academy will open in autumn 2017, to train employees in engineering, manufacturing, project management and other transport sector skills.
The Pendolino fleet are half-way through their lifecycle. The re-painting involves totally stripping the trains of exterior paintworks and fixtures and fittings, inspection for minor damage, and then, following necessary repair works, the new paint is applied one layer at a time. This work protects the trains from further exterior wear and tear and rusting and corrosion.
Rob Whyte, Managing Director – Regional & Intercity at Alstom UK & Ireland, said:
"Re-painting the iconic Pendolino fleet is a significant win for us. Not only does it cement our longstanding relationship with Virgin Trains, but it will also be the very first piece of work that will take place at our new site in Widnes once it is complete. We are excited to be expanding our presence in the region through our site at Widnes, which we hope will become a modern, efficient rail hub for the whole of our UK operations."
Pendolino trains were manufactured in the UK by Alstom especially for the West Coast Main Line. Alstom currently maintains the fleet at its specialist Traincare Centres in Wembley, Wolverhampton, Manchester, Liverpool and Glasgow as part of a train train service agreement that is funded by the Department for Transport, which is part of the franchise agreement with Virgin Trains.