Poland: Alstom Pendolino Celebrates 10m km
Alstom Pendolino high speed train has run 10 million kilometres in revenue service in Poland for rail operator PKP Intercity. Alstom Pendolino high speed trains began operating in December 2014. The distance was covered over the course of 21,000 journeys, carrying 5.7 million passengers. It is the first high speed train in Poland.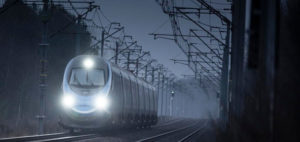 Alstom Pendolino links the country's key cities and delivers enhanced comfort, safety and shorter journey times from city to city. Following the success of the primary routes, PKP Intercity extended the trains operation routes to include Rzeszów, Bielsko Biała and Gliwice in December 2015.
The trains are regularly maintained at Alstom's Train Technical Service Centre in Olszynka Grochowska in Warsaw. Alstom's team have carried out more than 1,300 regular check-ups over 50,000 hours in 18 months, ensuring their reliability and full availability to met PKP Intercity's commercial timetable. Alstom meets the highest European health and safety standards, and as a result, there have been zero accidents at the Technical Service Centre since they began operations.
Artur Fryczkowski, Services Director for Alstom in Poland, said:
 "Alstom is proud of the success of this project in Poland. Pendolino trains have proven their reliability over the last 18 months, operating in all kind of weather conditions regardless of heat, snow or sub-zero temperatures, and always providing comfort and safety to passengers."
Alstom Pendolino is a highly regarded, reliable high-speed train, offering comfort, safety and an enhanced passenger experience. Pendolino trains operate cross border services in Europe, crossing seven European borders, operating in 14 countries internationally: Italy, Austria, Germany, China, Czech Republic, Finland, Portugal, Russia, Spain, Slovakia, Slovenia, Switzerland, the United Kingdom and Poland. Part of the Alstom Avelia range, Pendolino is the result of 40 years of high speed train experience. More than 1,200 of the trains are currently in commercial service, making up one-third of the world's high speed trains.