Riyadh Metro Line 5 Tunnel Excavation Complete
ArRiyadh Development Authority (ADA) have celebrated the completion of tunnel excavation works on Line 5 (Green Line) on the Riyadh Metro project on 8 June 2016. The metro will have six lines when it is completed. Line 5 is one of three lines constructed by FAST Consortium, comprised of FCC (leader), Freyssinet Saudi Arabia, Alstom, Samsung, Strukton, Setec and Typsa. The occasion was marked in a ceremony attended by the Governor of Riyadh, His Royal Highness Prince Faisal bin Bandar bin Abdulaziz Al Saud, Transport Minister His Excellency Suleiman Al Hamdan, and dignitaries from other Government Ministries and VIP Guests.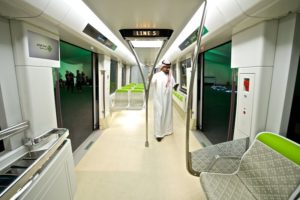 The FAST Consortium is undertaking the construction of the Yellow, Green and Purple Lines of the metro project, amounting to 33km of viaducts, 22km of underground tunnels and 9km of at grade lines. The Green Line travels underground in a bored tunnel along King Abdulaziz Road, an arterial route through the city of Riyadh. The Green Line is 13km long with 11 underground stations, and two transfer stations meeting the Red and Blue lines.
The project has utilised seven tunnel boring machines (TBM). The completion of tunnelling for the Green Line is the second TBM to complete its work.
Riyadh Metro Trainsets Unveiled
At the ceremony, a full-size mock-up of the Riyadh metro trainsets was unveiled. The train is a Metropolis, manufactured by Alstom. Alstom will now begin their portion of the track works, commencing at an at-grade part of the Yllow Line. They will be the first tracks laid in the entire project.
The Metropolis trains for the Riyadh metro are two-car sets measuring 36m long. Each train will have first, family and single class areas. They are driverless and entirely motorised, which enables them to operate on gradients of up to a 6% slope. The trains feature ergonomic seating, LED lighting, air conditioning and advanced passenger information systems.
The FAST Consortium were awarded the works in 2013, charged with constructing a total of 64km of metro line. Alstom will deliver a fully integrated metro system including 69 Metropolis Trains, Urbalis signalling, energy recovery system Hesop and the tracks. All sub-systems feature optomised integration to minimise energy consumption.