Alstom ETCS Pilot in New South Wales
Alstom has delivered, installed and tested a European Train Control System (ETCS) Level 2 signalling system in New South Wales as part of a pilot trial of the Automatic Train Protection Project for the State's transport authority, Transport for New South Wales (TfNSW). Alstom has installed signalling equipment on board and trackside for four test trains over an area of 11km between suburbs of Arncliffe and Oatley in Sydney.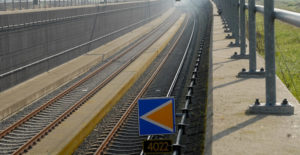 The project will enable TfNSW the operating company, Sydney Trains, to trial Alstom ETCS Level 2 system, leading to full roll-out over key sections of the Sydney transport network. The full deployment of ETCS technology will improve safety and capacity in busy rail corridors.
Alstom ETCS Level 2 system in use on this trial is based on Alstom's Atlas 200 and Smartlock 400 systems.  This is the newest evolution of Alstom's interlocking technology range. It is the result of 30 years of international experience. The system is appropriate for any railway topology, with either a centralised or distributed architecture. It can also be installed on existing installations and new networks. The cutting-edge technology delivers high operational functionality to create highly safe and reliable networks.
Alstom's Atlas 200 ETCS L2 system was developed to comply with European Railway Agency specifications. Alstom has been developing this system for more than a decade following the first installation in Europe. Alstom's ongoing investment in research and development has produced a continually improving product which meets the latest European and global standards as they are set.
Alstom's team of more than 50 signalling experts in Sydney and Melbourne worked with the European ETCS Centre of Excellence, based in Charleroi, Belgium to adapt the technology with the precise needs of the network. As part of this project, Alstom is also supplying its ETCS Level 1 solution, Atlas 100, to TfNSW for more than 1400 signals and 168 trains.