Alstom and PKN ORLEN, a Polish manufacturer and distributor of fuel products, have signed a strategic co-operation agreement for the supply of zero-emission trains and hydrogen fuel.
The two companies will co-operate to deliver zero-emission hydrogen solutions for public rail operators. Under the agreement, Alstom will be responsible for supplying trains powered by hydrogen fuel cells, while PKN ORLEN will be responsible for the distribution, storage and supply of hydrogen fuel to power them.
The first of these hydrogen vehicles is likely to roll out on regional lines in Poland within two years.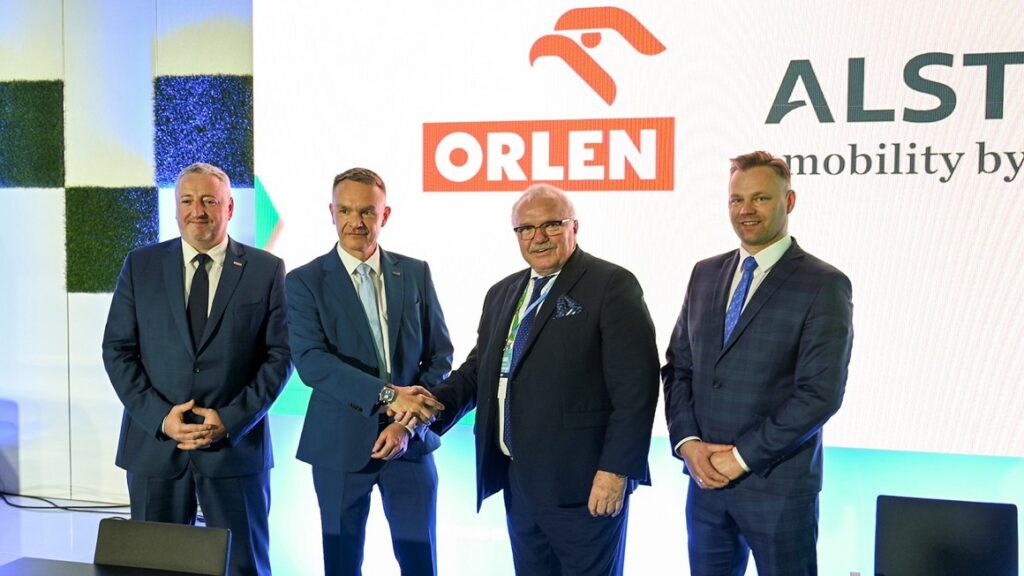 "One of the key elements of Alstom's strategy is to have a positive impact on the climate and the environment. We have been using hydrogen technology in railway transport for years and we are the first company in the world to start commercial passenger transport with hydrogen trains, which are completely emission-free and, what is important, partly produced in Poland. We were the first to introduce high-speed trains to Poland – 20 Pendolino trains. I hope that Alstom will also be the first to introduce hydrogen trains to Poland. The signing of today's agreement with PKN ORLEN is another step towards the transformation of the Polish railway with the use of state-of-the-art global technologies."
In response to the growing demand for eco-friendly fuels, ORLEN Group has prepared a 'Hydrogen Strategy' that includes the use of hydrogen in urban public transport and railways. In line with these goals, PKN ORLEN has signed letters of intent to co-operate with more than 20 Polish cities and companies who are potential hydrogen recipients.
"We are consistently developing alternative energy sources, including hydrogen. This is the fuel of the future that will drive the energy transition in the long term. We have strong competences in this area, backed by experience. Cooperation with Alstom will enable us to implement pilot hydrogen projects in public rail transport and strengthen our position in Poland and the whole Central European region."
Depending on how hydrogen is manufactured, it can be carbon-intensive or, more sustainable, if produced from electricity generated from renewable production.