£400 Million Investment in Hitachi Trains for East Midlands Railway
Abellio UK, franchisee of East Midlands Railway (EMR), has confirmed it has awarded a £400 million contract to Hitachi Rail for its new fleet of intercity trains.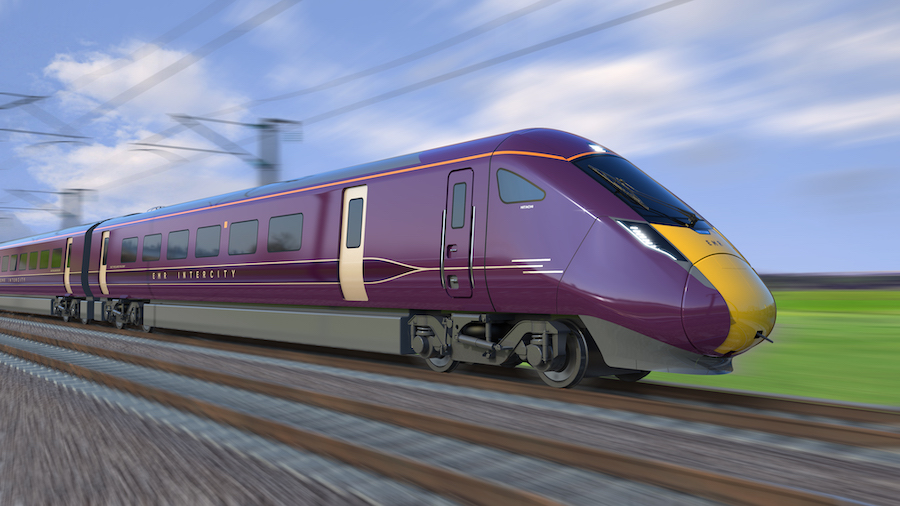 A Modern Fleet for the East Midlands
Serving the main cities and towns on the Midlands Main Line, operation of the new fleet of Hitachi trains will begin in 2022. Passengers will benefit from more seats and modern interiors, and experience features like air conditioning, free Wi-Fi, plug sockets, and better passenger information screens. There will also be an improved 'seven day' catering service for both First and Standard Class passengers.
Greener and cleaner, the 33 five-carriage trains, which will operate regularly in a 10-carriage formation, will provide a better environment for passengers, stations and communities along the route, with lower carbon emissions and the ability to run on electric overhead lines where available. When running on diesel, harmful emissions will be cut by up to 90 percent compared with the legacy High-Speed trains.
Managing Director of Abellio (UK), Dominic Booth, said:
These new trains form the centrepiece of our ambitious plans for a complete replacement of all the trains on the East Midlands Railway and more than £600 million investment to really improve the regions railways. They will respond to what our passengers have told us they want with more frequent services, faster journeys between the East Midlands and London, and provide more capacity with 80% more seats into London in the morning peak.
Benefit to UK Suppliers
The order will also benefit suppliers in the region. Hitachi UK's factory in Newton Aycliffe, County Durham, works with 65 different suppliers from across the area awarding contracts which will support skills and jobs.
Opening in 2015, Hitachi's factory has so far delivered over 450 intercity carriages into service across the UK. The fleet for EMR will be the sixth to be delivered to UK operators.
Managing Director for Hitachi Rail UK, Karen Boswell, said:
Today's announcement will be welcomed in workshops and engineering centres across the country, thanks to our large network of UK suppliers. Our train factory in County Durham sources train parts from across the country, including a significant amount from the regions where the new trains will run.
Funding
The funding for the new fleet is led by Rock Rail and financed through Rock Rail East Midlands Plc and leased to Abellio, who recently won the eight-year contract to run EMR, for the life of the franchise.
Chief Executive Office of Rock Rail, Mark Swindell said:
Rock Rail is delighted to be working with Abellio and Hitachi and our institutional investor partners to bring these trains to the region and deliver step changes in the travelling experience for the people of the East Midlands.
Once in service the new fleet will be maintained and serviced at EMR's Etches Park depot in Derby, supporting engineering jobs in the East Midlands.
Read also: