16 New Stadler FLIRT Trains for NordWestBahn
Stadler has won a contract with Transdev GmbH for 16 FLIRT trains. The electric multiple units will run on the Regio S-Bahn Bremen/Lower Saxony network. The contract is worth around 100 million euros (113 million USD). Transdev GmbH, a German subsidiary of the French Transdev Group, has commissioned Stadler to develop, build and deliver the trains, bringing the total fleet of FLIRT trains operated by Transdev in various configurations in Germany to 118 by December 2022. That is when they will enter service in accordance with the contract terms. The Transdev subsidiary NordWestBahn GmbH will operate the EMUs. The TOC once again won the contract to operate the franchise in April this year.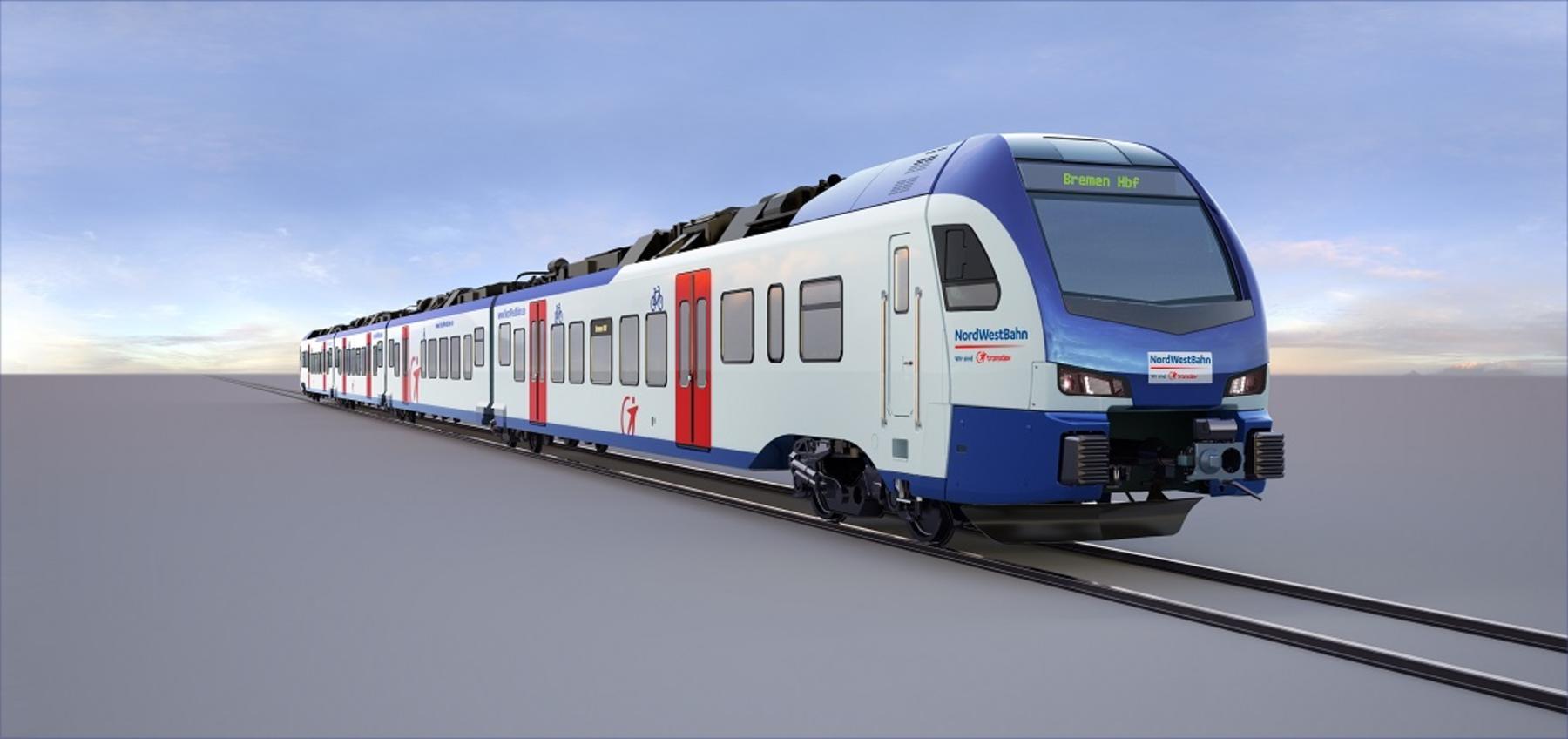 Stadler FLIRT Trains for Transdev / NordWestBahn
The Stadler FLIRT trains for Transdev will consist of four cars each and have a total length of 86.9 metres. There will be seven passenger doors on each side, allowing for efficient boarding and disembarking. Each electric multiple unit can accommodate 527 passengers, of which 260 will have seats.
The trains will feature both an accessible toilet and one that is not designed to be accessible. This is in line with the technical standards for interoperability relating to persons with reduced mobility (TSI PRM). The trains will have step-free access.
The large multi-purpose areas provide space for up to 30 bicycles, bulky luggage and prams. In a nod to the increase in electric bike use, these areas also have power sockets for recharging them. These areas are also available for wheelchair use, which is another TSI for persons with reduced mobility.
The passenger information displays are located at every entrance area. They provide real-time journey updates. Each FLIRT train has a maximum speed of 160km/h.
Jure Mikolčić, CEO of Stadler Germany, said:
"We are delighted to be able to continue our constructive and successful cooperation with Transdev by supplying FLIRT trains for the Bremen region for the first time. We are very proud that Transdev, one of the largest rail transport companies in Germany, is once again opting for our tried and tested product and has awarded a new tender to Stadler after just a few months."
Also read: