DB Regio Orders 18 Stadler KISS Trains
Germany: DB Regio and Stadler have signed a contract for the design, manufacture and delivery of 18 double-decker KISS trains. DB Regio will put them into service on the 'Elektronetz Ost' (Hamburg metropolitan area) route. DB Regio once again won the franchise in March this year. The contract is worth approximately 220 million euros (248 million USD).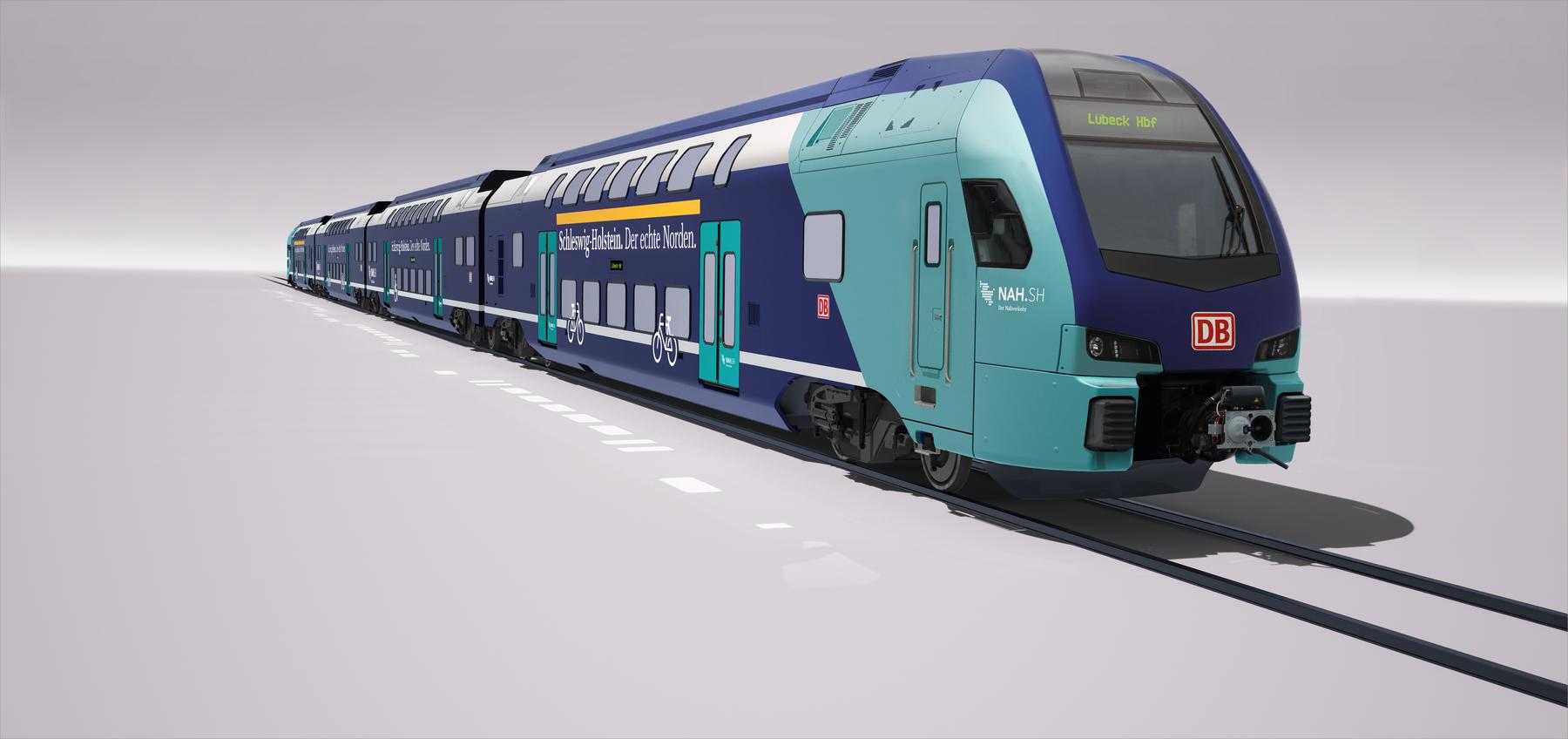 The Stadler KISS trains are to enter service for DB Regio starting in June 2022. This will allow for a smooth transition into the new timetable which comes into effect in December that year. The signing parties were Jure Mikokčić for Stadler Germany and Torsten Reh for DB Regio Nord.
Stadler's KISS Trains for DB Regio
The four-car double-decker multiple units will consist of two powered cars and two unpowered cars. Each one can carry up to 880 passengers. In particular, there will be 405 seats, with 38 of those being in first class.
The first class area on these trains will be on the upper deck. The seats will be in a 2+1 configuration, which provides a pleasant amount of legroom for passengers.
The vehicles will feature wifi, power sockets and video surveillance. Furthermore, a modern passenger information system and an electronic reservations system will increase the passenger experience.
The lower deck will exhibit a spacious design with easily accessible multi-purpose areas. These areas are perfect for wheelchairs, prams or up to 36 bicycles. The train's toilets will of course be wheelchair-accessible as well.
The trains come with a gap bridging system so that all passengers can access the vehicles without steps. They are optimised for a platform height of 76cm. Each train will have eight doors over a length of 106m. This will allow passengers to board and disembark efficiently.
Each of the trains will also have four powered bogies, making them very dynamic. They will operate at top speeds of 160km/h. Thanks to the option of running in double or triple formation, each train could carry up to 2,640 passengers.
Stadler's GUARDIA Train Control System
Stadler will equip the KISS trains with its new GUARDIA train control system. This is another milestone for Stadler in the signalling area. The train control system will be retrofitted as part of the Fehmarnbelt Fixed Link between Germany and Denmark.
DB Regio operates Stadler vehicles in seven out of Germany's 16 federal states. However, it is only the second time it has ordered KISS vehicles.
Jure Mikolčić, CEO of Stadler Germany, said:
"We are delighted with this order from the Schleswig-Holstein region because it means we can continue our successful working relationship with Deutsche Bahn. This contract confirms that railway companies need modern, reliable and smooth-running double-decker vehicles that can transport a high number of passengers easily and quickly."
Torsten Reh, Head of DB Regio Nord, said:
"We are also very proud to be the first company in the north to use these new Stadler vehicles for DB Regio. This is a very attractive, future-oriented rail offer for our passengers."
Also read: