Stadler Traverso Enters Regular Passenger Service
The new copper-coloured Stadler Traverso entered regular passenger service for SOB (Schweizerische Südostbahn AG) in the beginning of June. SOB has deployed it on the Voralpen-Express route between St Gallen and Lucerne.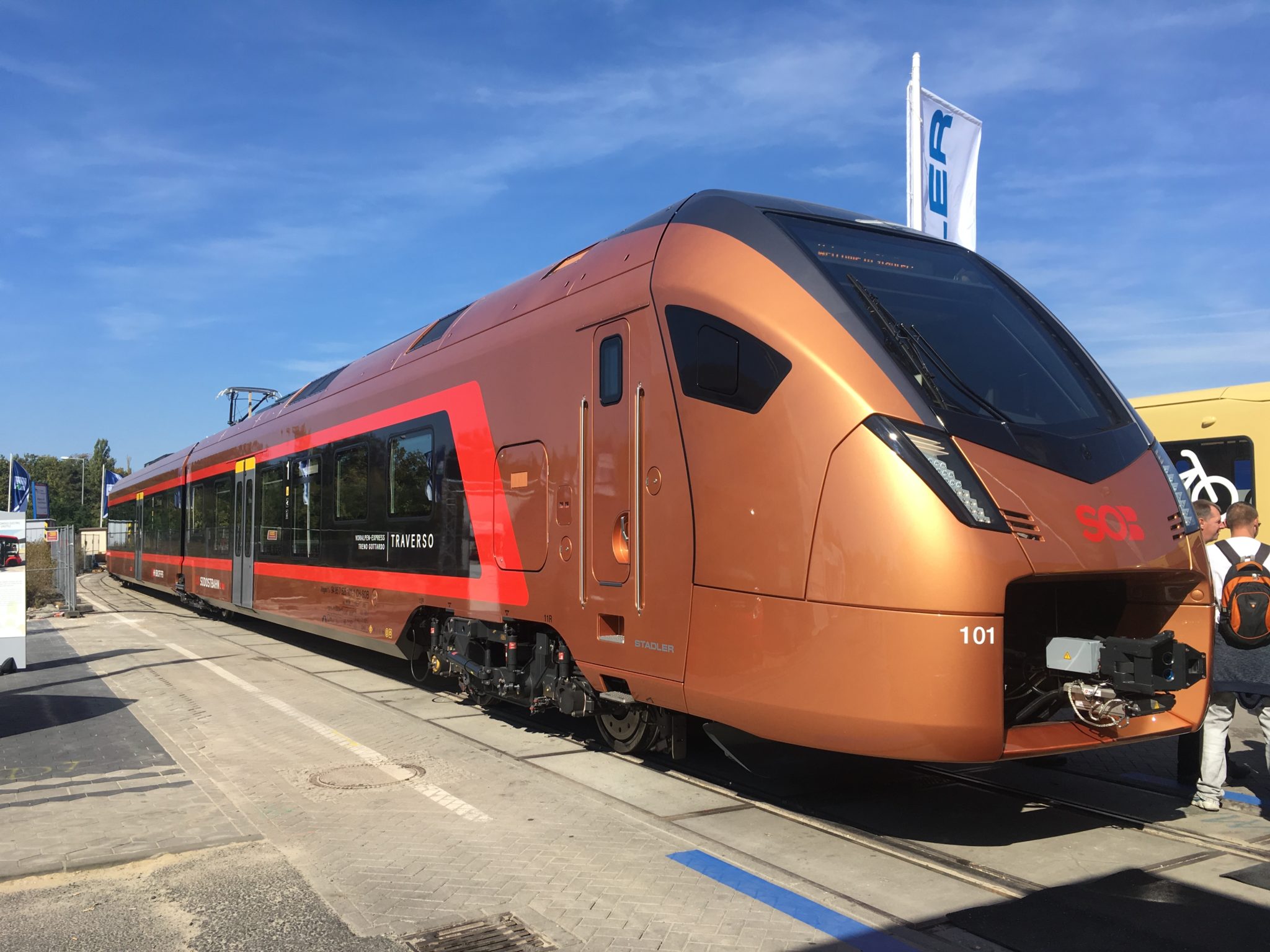 Stadler Traverso for the Voralpen-Express Route
Once the new timetable comes into effect on 15 December 2019, six Traverso low-floor EMUs will replace the rolling stock on the Voralpen-Express route. Some of these trains are 40 years old.
The President of SOB's Governing Body, Hans Altherr, said:
"I'm very leased that this long-distance 'Traverso' is already in regular service just three years after placing the order."
Stadler Traverso Details
Each Traverso has 359 seats, of which 68 are in first class and 291 are in second. Each seat comes with a power socket. Furthermore, each train has two bistro zones with coffee and snack vending machines.
One of the cars has been designed with families in mind. It features pictures on the wall that the Lucerne-based artist Konrad Beck painted.
The trains are fully air-conditioned and comply all the latest European laws regarding equality for disabled individuals. Each car has between four and six passenger information displays.
Supplementary Stadler FLIRT Details
The four-car silver FLIRT trains have 197 seats, of which 22 are in first class and 175 are in second. The SOB will largely deploy these trains for regional services (S-Bahn) and to complement the Traverso during peak hours.
Traverso Testing
For the past year Stadler has been putting the new Traverso trains through their paces. For example, they have performed various braking tests on several routes in Switzerland under a range of conditions. Last summer Stadler tested the train's ventilation system, air-conditioning, insulation and further aspects at temperatures of -30 to +45 degrees in SBB's climate chamber.
The public saw the new Traverso for the first time almost a year ago, at the roll-out in Erlen on 6 June. In addition it was on display at InnoTrans 2018.
SOB-Stadler Contract
After an international tender, SOB awarded the contract for six eight-car trains and five four-car trains for the Voralpen-Express route in 2016. This initial order was worth 170 million francs (152 million euros | 170 million USD).
In 2017 then SOB ordered a further eleven Traverso trains for the Gotthard mountain route.
Finally, in 2018, SOB placed its third order for seven eight-car and five four-car trains for the Bern-Zurich-Chur route. In total these three orders are worth around 480 million francs (430 million euros | 480 million USD).
SOB Co-operation with SBB
In July 2017 SOB and SBB entered a co-operative agreement. Based on that SOB will start running long-distance services as of December 2020. SOB will then offer hourly services departing on an alternating basis from Basel and Zurich. These trains will take the Gotthard mountain route to Locarno.
In the following year, December 2021, SOB will also run hourly services on the Bern-Zurich-Chur line. It will operate this service with largely its own rolling stock.
Thomas Küchler, CEO of SOB, said:
"I'm proud that we'll be able to serve the capital with our new Traverso long-distance trains."
Also read: