UWC Ships 26 Tank Cars to GATX Rail Vostok
United Wagon Company (UWC) has shipped 26 tank cars to GATX Rail Vostok. The subsidiary of GATX Corporation will use these tank cars to transport molasses and vegetable oils.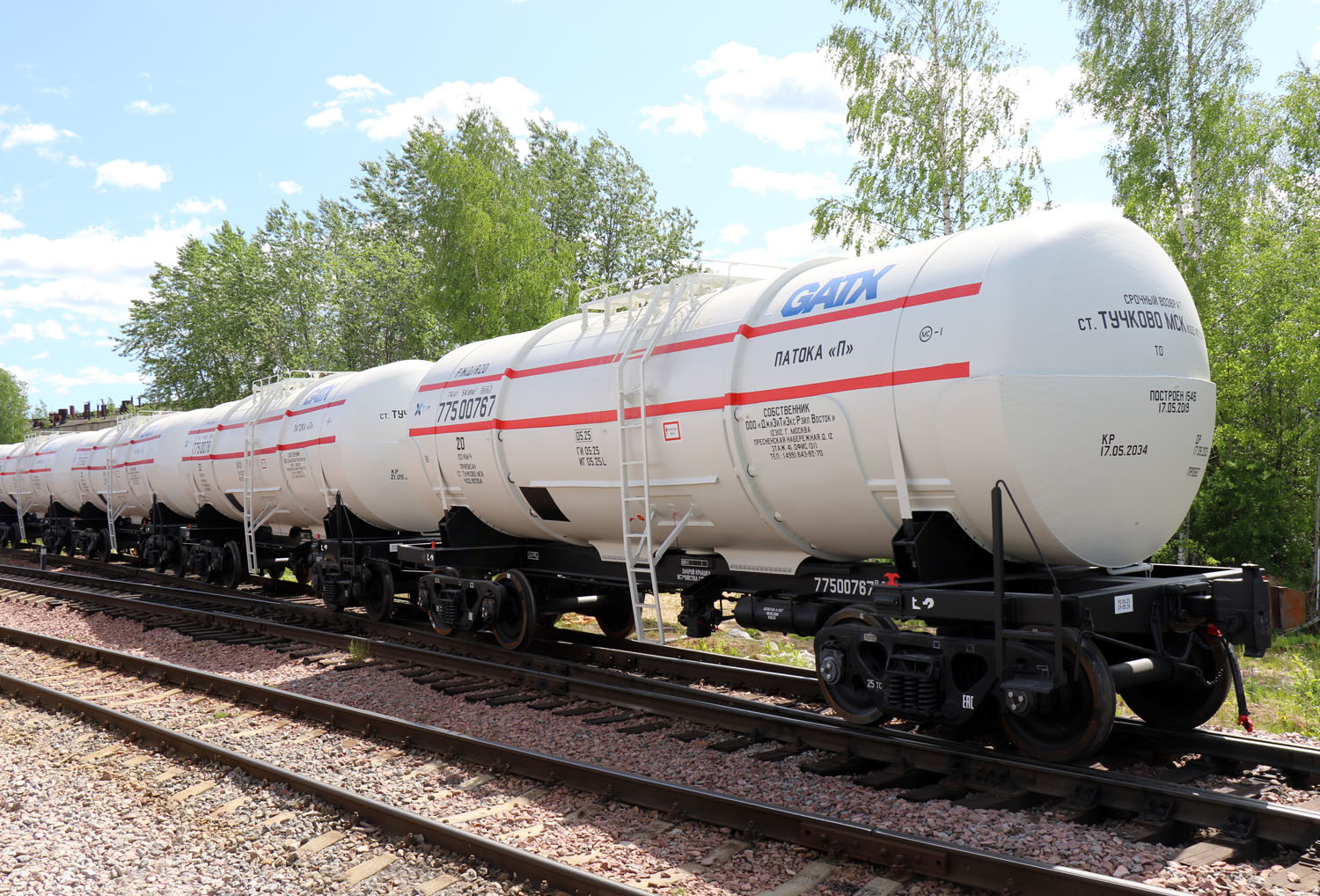 UWC says this tank car is a new addition to its product line. Furthermore, it is the only tank car for the Russian gauge rail network suitable for this kind of freight that also has a stainless stell boiler and an axle load of 25t.
The All-Union Research and Development Centre for Transportation Technology developed the 15-6900-04 tank cars. TikhvinChemMash then manufactured them at their plant. Both companies are part of UWC.
Elena Korolkova, Deputy CEO at GATX Rail Vostok, said:
"We value our partnership with United Wagon Company. There are already Tikhvin-produced cars for transporting caustic soda in the GATX Rail Vostok fleet. Our clients are showing real interest in models with increased payload capacity, and we are pleased to be able to offer them this fleet in partnership with UWC and gain practical experience in operating it. We are also happy to note that the UWC team shows a great degree of professionalism and an eagerness to meet all of our requirements."
15-6900-04 Tank Car
UWC says that one of the key features of this tank car is its unique boiler design. Firstly, it is made from stainless steel. 95 percent of the Russian tank cars for transporting molasses are made of ordinary carbon steel. Secondly, it is put through a number of special treatments, mechanical and chemical in nature, that comply with the strict regulations in place for global food freight transportation.
For example, chemical passivation is a treatment for the stainless steel during production. It creates a protective microfilm on the boiler's inside surface. This process ensures that the quality of the food cargo is protected.
The 15-6900-04 tank car can transport more than molasses and vegetable oils. It can be used for around 30 different starch products and vegetable oils. A further benefit of this tank car is that it has maximum discharge volumes, even when the cargo is viscous. This is because its boiler has a 'bent' axle. It can deliver these discharge rates under a wide range of temperature conditions as well, thanks to the tank car's heating system. It features an external steam jacket.
The tank car's volume is 56 cubic metres and its payload capacity is 74.4 tons. UWC says that compared to standard freight cars in use on the broad-gauge network, this one can transport seven to ten tons more. Consequently, the fleet can be ten percent smaller and still carry the same freight volume.
Another benefit of its tank car, says UWC, is that it requires less maintenance. Extended periods between servicing mean that life-cycle costs are reduced.
Market Share for Rail
Molasses production is up by more than 40 percent in Russia over the past five years. However, the amount of this freight transported by rail has only grown by 25 percent. UWC says that 60 percent of Russia's tank cars capable of transporting molasses are currently being used to transport liquid fertiliser instead. If rail wants to keep and grow its market share in this sector, investment in new, appropriate rolling stock is clearly a must.
Ilya Shiyan, Commercial Director at UWC, said:
"We are pleased with the development of our partnership with GATX Rail Vostok. We hope that rolling out these tank cars for transporting molasses, which are new in the 1520-mm gauge area, will allow for the most efficient possible transportation of freight, preserving its quality and increasing market competitiveness for both the railway operator and the producer of the goods."
Also read: