Noah's Train Promoting Modal Shift to Rail Reaches Italy
The freight train 'Noah's Train' has reached Italy on its journey to promote rail freight transport as a more environmentally friendly option over road.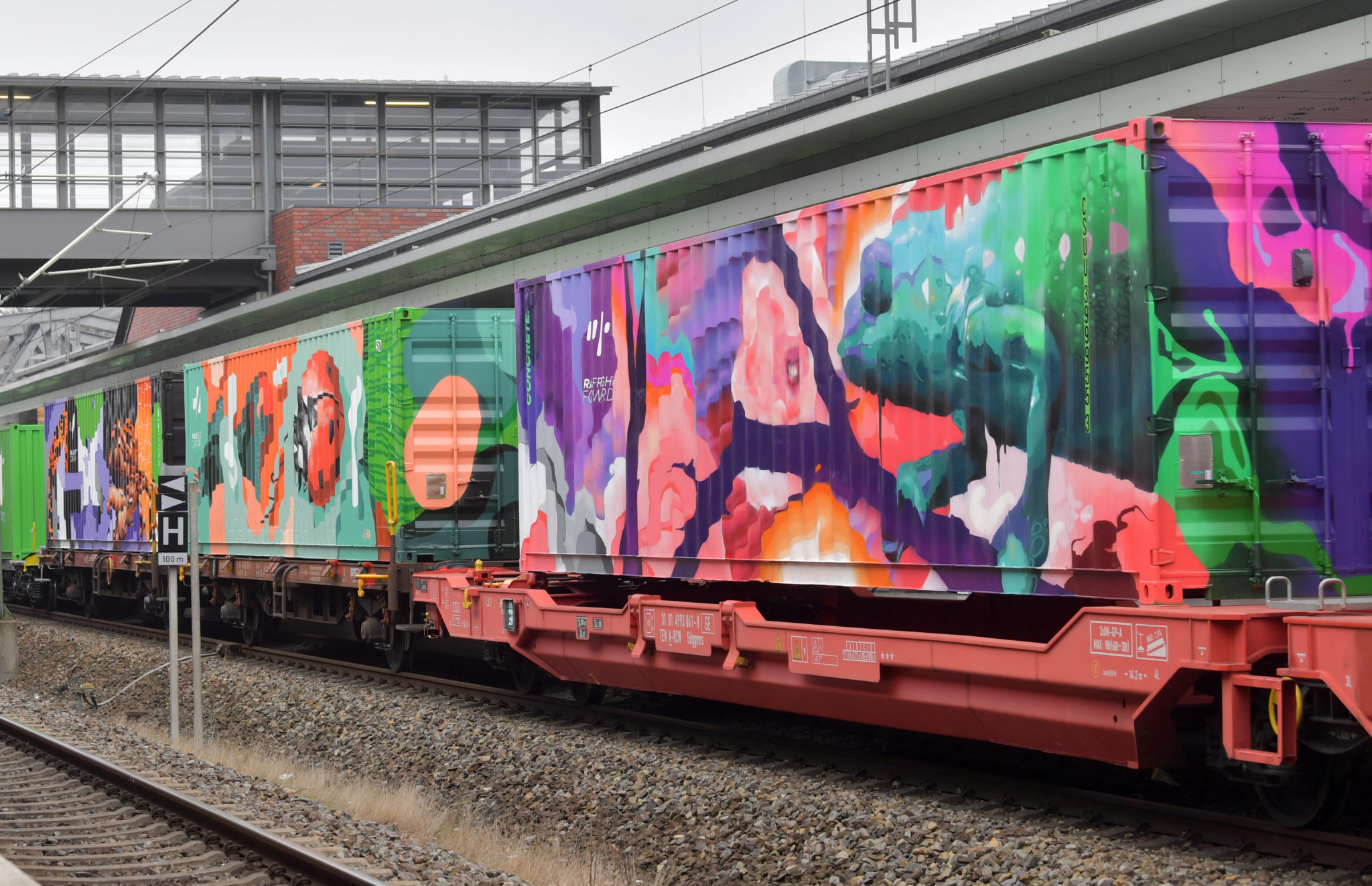 What is Noah's Train?
Noah's Train embarked on its European journey in December 2018, setting off from Katowice, Poland, where the 2018 UN Conference on Climate Change, COP 24 took place. It has since stopped in Vienna (Austria), Berlin (Germany), Paris (France), Brussels (Belgium) and now Rome (Italy). Noah's Train is a freight train made up of wagons and containers provided by the rail operators participating in the initiative. In every location where the train stops street artists paint two of them with pictures of animals. The name – Noah's Train – is in reference to the biblical story of environmental rescue and conservation.
The Aim of Noah's Train
The goal of the initiative is to encourage a shift to rail freight transport in order to cut carbon emissions. The hope is to increase the sector's market share to 30 percent by 2030.
Incidentally, this is not the first time the annual COP conference has made use of a train to promote environmental awareness. COP 21, of Paris Climate Agreement fame, featured the 'Train to Paris' initiative, encouraging attendees to travel to the conference by rail, rather than by air or other much more polluting modes.
More recently, the World Economic Forum in Davos was slammed for the record number of private jets, as participants flew in for climate talks. Making a further biblical reference, Sir David Attenborough said "the garden of Eden is no more".
Clearly, to achieve a modal shift from road (or air) to rail for both people and freight, we also need shift in personal choices and initiatives such as Noah's Train serve to highlight that.
Noah's Train in Rome
The Minister of the Environment and Protection of Land and Sea, Sergio Costa, the Chairman of the Union Internationale des Chemins de Fer (UIC) and President of the FS Italiane Group, Gianluigi Castelli, Managing Director of Mercitalia Logistics (FS Italiane Group), Marco Gosso, Managing Director of Mercitalia Rail, Gian Paolo Gotelli, General Manager of Legambiente, Giorgio Zampetti, and Freight Director of UIC, Sandra Gehenot were all at Rome's Tiburtina Station to welcome Noah's Train.
Sergio Costa said:
"Noah's train travelling through Europe, with colorful coaches, brings around a very important message: to reduce CO2emissions and fight climate change we need to move freight traffic from road to rail. Rail transport emits 9 times less CO2than road transport, an important contribution from this sector."
Gianluigi Castelli said:
"The rail sector can play a key role in the challenge of decarbonising transport, which as a whole generates 27% of emissions in Europe.

"Noah's Train, which stopped today in Rome, is the symbol of this challenge and of the entire railway sector's ambition to increase the share of rail freight from the current 17% to 30% by 2030. Rail transport has an undisputed record in terms of safety and sustainability (-90% of emissions compared to road transport), but drastic and courageous decisions are needed from policymakers, especially at a supranational level, for example in the key area of interoperability.

"The movement of freight traffic from the road to the railway is one of the most important strategic objectives of the FS Italiane Group and we can achieve it by aiming to satisfy our customers, increasing our reliability and introducing innovative services, such as the new transport service high-speed Mercitalia Fast."
Also read:
As Railway-News recently reported, in order to increase the public's acceptance of rail freight, it must address its key environmental pollution issue: noise. To this end Germany has launched a noise-monitoring programme.
Read | Germany Launches Rail Freight Noise Monitoring
Deutsche Bahn has also published a progress report on reducing rail freight noise.
Read | DB Progress on Reducing Rail Freight Noise Pollution
Deutsche Bahn with industry and governmental partners has been running an innovative freight car project. This has been a success and has produced quieter freight wagons.
Read | DB's Innovative Freight Car Project a Success
SBB Cargo's 5L freight train has been equally successful in reducing noise emissions, down 9dB, making this freight train almost as quiet as a passenger train.
However, it is not a given that a modal shift from road to rail is the only response to the climate challenges the world faces. For example, the on-going electrification of vehicles, including HGVs, as well as concepts such as overhead lines for road traffic are alternative avenues that are competing with rail for market share.
Read | What does the CCC Net Zero Report Say about Transport?