Unified Passenger Information Launched by PaxLife at UITP Summit 2023 in Barcelona
We're excited to announce our participation in the upcoming UITP Global Public Transport Summit in Barcelona, from 4 to 7 June 2023. This year's Summit promises to be a unique and memorable event, with over 15,000 international visitors, 380 exhibitors and numerous insightful conferences.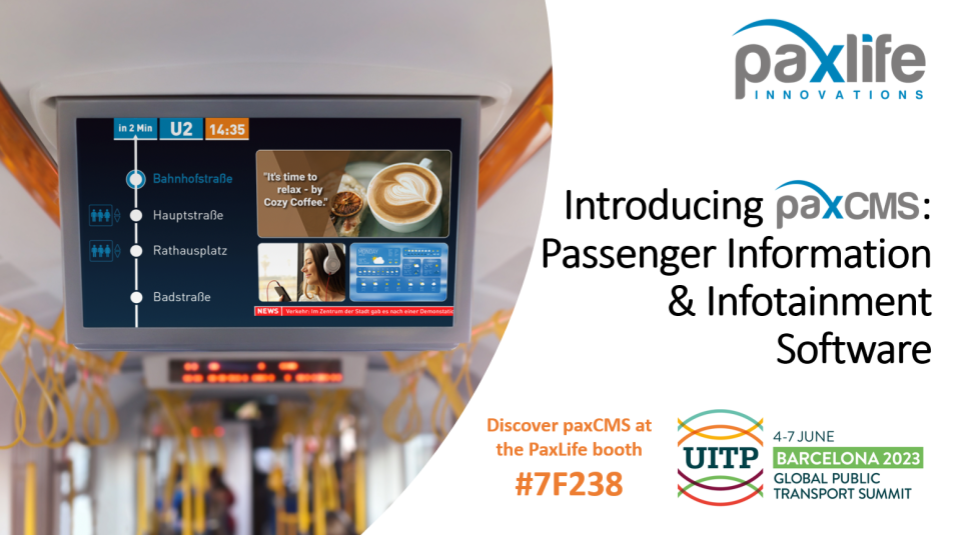 We will proudly showcase our latest innovations and software products at our booth #7F238 in Hall 7, with a specific focus on Unified Passenger Information. Unified, consistent, real-time and uninterrupted passenger information plays a crucial role in improving the journey, the experience and the satisfaction of passengers.
In this perspective, we invite you to join us at our booth #7F238 in Hall 7 for a demonstration to discover the unique advantages that our paxCMS software solution for passenger information brings.
a single platform for the unified delivery, design and display of digital data, content and services to all information channels (displays, audio, portals), regardless of the specifics of vehicles and equipment, existing or future
a user-friendly, powerful software editor to easily build your PIS product without the need for programming skills, and to manage it centrally in a consistent manner regardless of the output equipment:  on-board screens, smartphones, speakers, in vehicles as well as in stations
a media content database to integrate richer content and dynamic data such as advertising, news, weather, and other information to be displayed according to validity and localization rules
an open software architecture that combines seamlessly with your own or third- party applications and systems, both existing and future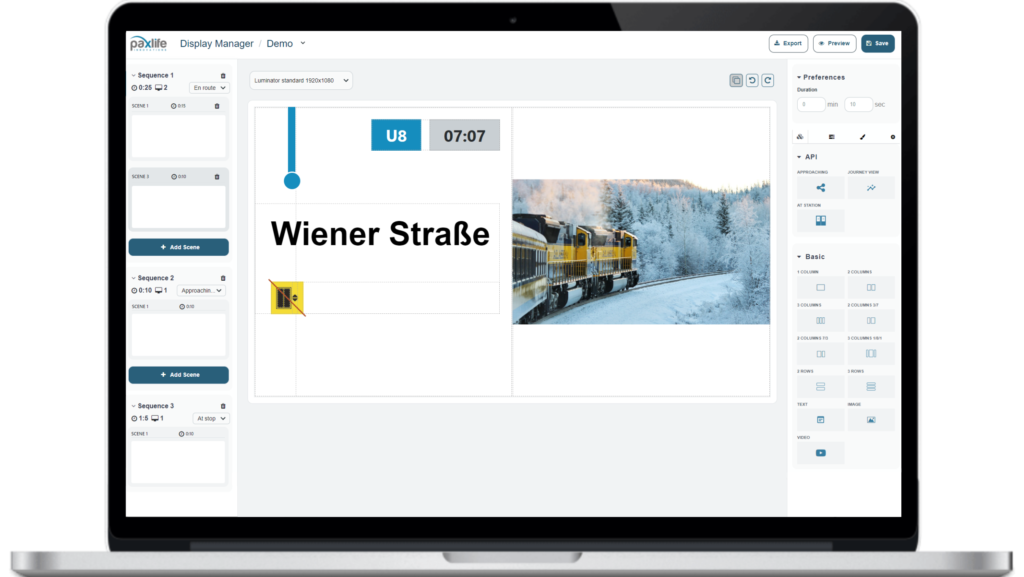 In addition, PaxLife's CEO Ralf CABOS will be speaking live on 6 June from 14:00 to 15.15 in the Spotlight forum A  panel session "Advanced travel information systems for easier and seamless journeys".
Feel free to arrange a demo or book a meeting with our team by contacting us at [email protected] or [email protected].
We look forward to meeting you in Barcelona!
This content was originally supplied by PaxLife Innovations.