PaxLife Innovations has partnered with HUBER+SUHNER to develop a new railway antenna enabling DAB+ radio broadcasting for rail journeys across Germany.
This will allow commuters to listen to their local radio station on their devices whilst on the move – something that has not been possible before due to the lack of DAB+ signal antennas required to achieve this.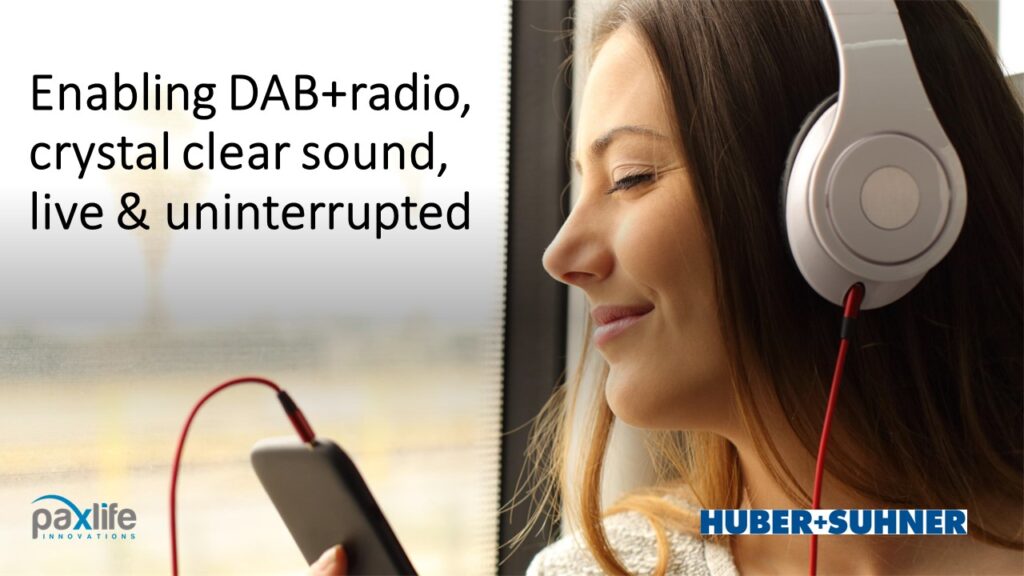 Introduction:
In Germany, the average travel distance for short-distance passenger rail is 20 kilometres (Railway Market Analysis Germany 2021). For most passengers, this is not enough time to stream an entire film or TV show before they reach their destination. However, this duration is perfect for commuters looking to tune in to a local radio station, especially for those travelling to and from rural areas where local broadcasting remains popular.
This, of course, depends on the strength of the on-board Wi-Fi service; listening to local radio via the internet competes with many other uses of internet onboard, like streaming videos and teleconferencing. In the end, this will depend on the capacity of the land-train cell connection. In practice, live streaming is faced with too many interruptions due to bandwidth loading for it to be considered an attractive option.
Operators are keen to offer the best possible services onboard, leveraging available networks in place today. To achieve this – and following a number of successful projects together – PaxLife Innovations turned to HUBER+SUHNER to develop a new railway antenna designed to complement the DAB+ (Digital Audio Broadcasting) receiver developed by PaxLife.
DAB+ is a new transmission standard for broadcasting and receiving audio sound over the air is not reliant on the internet but is instead a separate and independent digital network. The partnership between HUBER+SUHNER and PaxLife will enable DAB+ radio broadcasting for a regional German railway operator.
Challenge:
Once the main requirements of the railway operator had been established, PaxLife Innovations started the project by reaching out to numerous vendors operating within the DACH region. It quickly became apparent that there were no suitable antennas on the market capable of supporting the DAB+ frequency bands.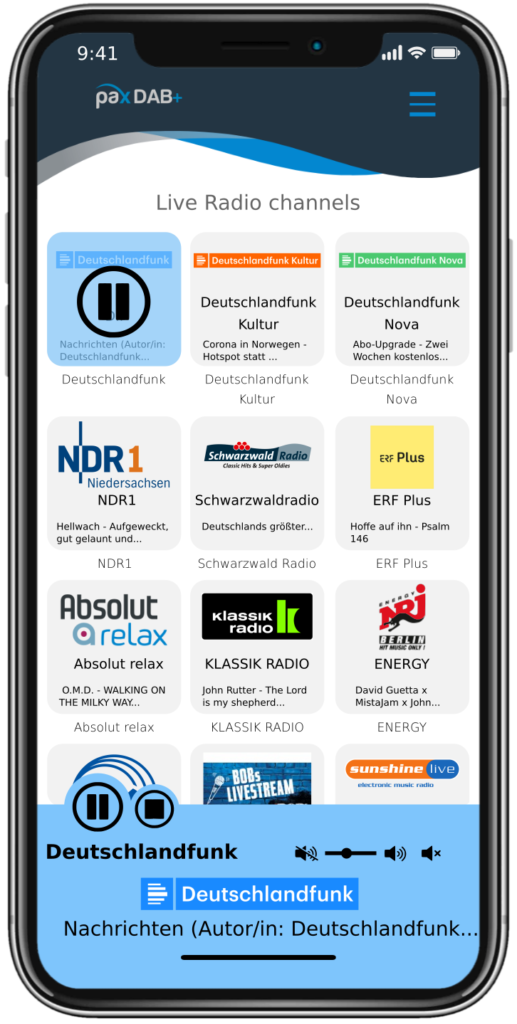 Any solution supporting the DAB+ service requires either a very large antenna, or a small antenna that can incorporate amplification and filtering techniques to adequately improve the signal strength. However, this approach leads to an overall poor signal quality. It quickly became clear that a tailored solution was required for the operator to enable live radio broadcasting.
Solution:
Due to the strong engineering expertise demonstrated throughout the rail industry, PaxLife chose HUBER+SUHNER to develop a unique antenna designed to cover the DAB+ Band III operating between the 147-240 MHz frequencies. The antenna utilises the bands without the need for amplification or filtering, providing the exact signal quality required to listen to public radio. This antenna is integrated within the SENCITY Rail MULTI platform, which provides a height of only 90mm while offering additional support for 4×4 Cellular 5G, 2×2 WiFi and GNSS for a total of eight ports.
During the development process, HUBER+SUHNER had to create a solution which could support the multi-ensemble hybrid radio receiver developed by PaxLife. This receiver connects to a DAB+ and GNSS antenna, and onboard ethernet LAN. A new, unique radiator was also needed to enable strong, reliable reception. To this end, external experts were sourced by HUBER+SUHNER to contribute towards the project, leading to the creation of a prototype radiator which surpassed all internal expectations, and was ready for use from the onset.
Result:
The new antenna enables rail operators to enhance their passenger offering by providing the means to leverage DAB+ for additional 300 Mbps of data reception aside from 4G/5G, use PaxLife Innovations' hybrid radio service for interruption-free reception and embedded CDN. This enables automatic podcast catching onboard, and supports radio stations, podcasts and other on-demand content including the complimentary audio library of broadcasters.
The antenna has been designed for use in Ostdeutsche Eisenbahn GmbH trains operating throughout Germany and is expected to be operational in a number of trains by the end of Q1 2023. Passengers using these trains can expect the reliable reception required to listen to their favourite stations and podcasts throughout the duration of their journeys.
This article was originally published by PaxLife Innovations.