The InnoTrans Innovation Report: a Bonanza of World Premieres
Just 19 days to go until the world's biggest rail show! This year will see a veritable bonanza of world premieres, new products and exciting developments presented by the exhibitors at InnoTrans 2016, which runs 20–23 September at Berlin Messe. A complete list can be found in the InnoTrans Innovation Report, details below.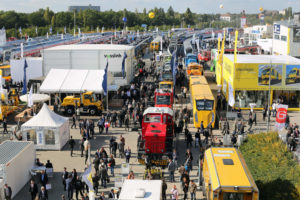 131 World Premieres
114 exhibitors have already announced 131 world premieres.For example, Siemens will present their 'Mireo', their new regional and commuter train platform that was developed especially for the steadily growing demand for mobility. Bombardier Transportation will attend with two world premieres: the modular vehicle platform for the new 'TALENT 3' and the metro 'MOVIA Maxx', which can be individually adapted to suit the needs and wishes of the operators.
Deutsche Bahn will present several firsts. The fuel cell of DB Bahnbau Gruppe produces electrical energy that is completely emission-free. 'Colibri', a new concept by DB for vehicle maintenance, illustrates what IT solutions will look like for the travel chain of tomorrow. DB Netz AG will exhibit its new tunnel inspection vehicle, class 705.1.
Alstom's new regional train, powered by fuel cells, will also be completely emission-free and boast very low noise levels.
The German Aerospace Center (DLR) together with the Andreas Vogler Studio will present an unusual train concept: the double-decker high-speed train 'AeroLiner3000' for the British rail network.
ABB Railway's world premiere at InnoTrans 2016 will be its light-weight traction transformer Effilight®, whose new technology entails a substantial reduction in the amount of oil needed; the company will also present its highly compact battery charging device BORDLINE® BC, which features impressive power density and availability as well as simple maintenance.
The Unimog vehicle presented by Mercedes-Benz Special Trucks possesses a railway crane with an elevated work platform as well as grab attachments and a wagon brake for loads of up to 400 tons.
InnoTrans Innovation Report
These and many other world premieres and developments can all be found in the InnoTrans Innovation Report, allowing the media and international industry members to inform themselves in advance and during the show. It already contains more than 200 exhibitors with their innovative highlights. You can check out the report at www.innotrans.de/en/Press/Innovations. It will be continuously expanded until the start of InnoTrans 2016.