Abellio Named Preferred Bidder for East Anglia Franchise
The UK's Department for Transport have named Abellio the preferred bidder to operate the next East Anglia rail franchise, starting from 16 October 2016. The bid includes plans to replace the existing East Anglia fleet with new rolling stock supplied by Bombardier Transportation.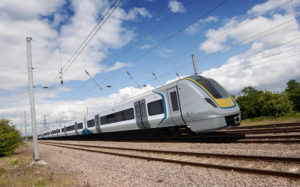 Abellio East Anglia Franchise
Abellio's bid included promises to deliver:
£1.5 billion spent on 1,043 brand new electric and bi-mode vehicles by 2020
32k additional seats into London in the morning rush hour (from 58k to 91k – a 55% increase)
1,144 additional weekday services (an increase of 13%)
Improved journey times
Free high quality WiFi on all new and refurbished trains and at stations
Improved punctuality
£120 million spent on depots, including a new maintenance facility at Manningtree
20 trainees per year, with a minimum of 30 apprenticeships by 2019
Abellio will also undertake a programme of investments to improve the passenger experience, including £60 million spent on improving stations, digital customer information screens at 131 stations, better ticket offices and more ticket vending machines and 1,800 additional car parking spaces and 4,000 additional cycle parking spaces.
Dominic Booth, Managing Director of Abellio UK, said:
"This is great news not only for Abellio but for the whole of East Anglia.  We are pleased to become preferred bidder to deliver a transformation in rail services across the region.  It will enable us to build on the successes of the two short East Anglian franchises we have run since 2012, and we commend the DfT on running a transparent and rigorous procurement process.

"Our plans will greatly improve our customers' experience with faster and more reliable journeys on new trains with higher frequencies and reduced journey times, to support the socio-economic well-being of East Anglia, one of the country's most successful and fastest growing areas."
Transport Secretary Chris Grayling said:
"We are making the biggest investment in the railways since the Victorian era. By awarding this franchise to Abellio East Anglia we will improve journeys for people in East Anglia.

"Abellio's decision will ensure our train building industry in Derby remains strong.

"This is part of our plan to make an economy that works for everyone – not just the privileged few – by ensuring prosperity is spread throughout the country."
Bombardier Aventra
Bombardier's Aventra vehicles will be some of the rolling stock to replace the existing fleet. The Aventra will also operate on the Elizabeth Line (Crossrail). The contract with Bombardier is expected to be finalised in the coming weeks.
Richard Hunter, UK Managing Director at Bombardier Transportation, said:
"Being named preferred bidder for this significant order is a fantastic endorsement of our workforce and the quality of the products we design, engineer and manufacture here in the UK and will ensure a stable, long-term workload for our staff here in Derby. Our modern AVENTRA trains will provide passengers with greater connectivity, reliability and shorter journey times."