Chinese High Speed Train CRH 0503 Hits 420 km/h in Tests
China's standardised high-speed train CRH 0503 reached record speeds of 420km/h on a test run on 15 July 2016. It was the world's first such test, involving two high-speed trains passing each other on an operating line. The two CRH 0503 trains were developed and made by CRRC Changchun Railway Vehicles Co. and CRRC Oingdao Sifang Co. Ltd. In the test, they crossed each other in less than two seconds.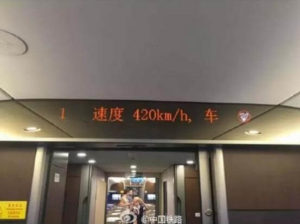 When the trains meet, their relative speeds double to 840km/h, meaning that they impact each other's performance. This has created an on-going challenge to the development and production of the high-speed train CRH 0503. Experts from CRRC are pleased with the results of the test, and have announced that the success of the test run makes the company ever closer to putting the CRH train into operation with an independent intellectual property right.
The ultrafast train will also be capable of adjusting its wheels to fit various gauges on foreign tracks, making it ideal for operating cross-border services. This will make it particularly attractive to the export market.
CRRC Changchun Railway Vehicles Co. has exported rail sector products to 19 countries and regions, having sold 7,000 vehicles worth more than $8 billion. At the Rio Olympics, 80% of the city's rail transport will be made by metros and high-speed trains produced by CRRC.
China recently announced that it will be extending its high-speed rail network by 11,000km, adding to the 19,000km of high-speed track already in the country. The National Development and Reform Commission issued a national railway development plan on 20 July 2016 which sets out plans for a 175,000km rail network by 2025, 38,000km of which will be dedicated to high-speed rail. Currently, more than 60% of the world's high-speed rail lines are located in China, stimulating economic and social development in the country.