DB Signs MoU with China Railway Rolling Stock Corporation
Coinciding with German Chancellor Dr Angela Merkel's visit to China, Dr. Rüdiger Grube, on behalf of Deutsche Bahn, signed agreements with in Beijing relating to a high-speed traffic maintenance contract and a regional transport project in Dalian, as part of an initiative to expand their activities in the Chinese rail sector.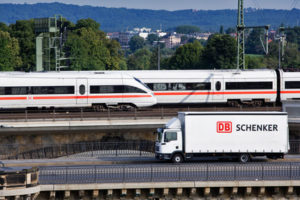 The Memoranda of Understandings were signed with China Railway Rolling Stock Corporation (CRRC), relating to a maintenance system for high-speed multiple units and the provision of mutual support in addressing operating problems arising from wheel-on-rail contract. CR, which operates a 19,000km high-speed network with a fleet of 1,400 trains, for which DB will deliver maintenance and repair support for the company.
Dr. Rüdiger Grube, Chairman of the Management Board and CEO of Deutsche Bahn AG, said:
 

"The People's Republic of China is an important market for us and will remain so in future. In view of the plans to invest more than 300 billion euros in transport infrastructure, we wish to benefit from the growth and potential in China. Our expertise is in high demand and our successful international activities also strengthen our position in our home market of Germany.

"There is a second project of which I am particularly proud: Our experts from DB Engineering & Consulting are the first foreigners to work on a regional transport project in China. As part of a consortium, they have a consultancy contract for the operation of regional transport routes in Dalian, a city with a population of 6 million."
DB's activities in China date back to 1966, and now has in excess of 5,000 employees in the country. DB had an active role in the construction of Metro Shanghai, the development of China's high-speed rail network, and the Transrapid in Shanghai. DB opened a procurement office in Shanghai in 2015 in order to benefit from China's production of rail sector products.