Sydney Metro: Skytrain Railway Bridge Wins Prestigious Engineering Award
Engineering News-Record, an American construction magazine, has given its Global Best Project Award (railway sector) for the Skytrain Railway Bridge over Windsor Road, which was installed during the ongoing construction of the Sydney Metro.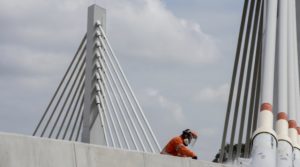 The bridge was built by Salini Impregilo and is the first cable-stayed railway bridge built on a curve in Australia. Construction of the bridge was completed in October 2017. The design of it, which was influenced by feedback from the local community, ensures that any future upgrade of the major road intersection beneath it will not be impacted by the metro system.
The deck of the bridge is constructed from 88 concrete segments, which weigh between 70 and 140 tonnes each. It is supported by 127 steel cables which have a combined length of 173 kilometres. The segments were mostly installed during the night, seven metres above ground level, to minimise disruption of the flow of traffic.
The winners in the 2018 Global Best Project categories were decided by an independent jury of industry professionals. The criteria for consideration included safety, innovation, contribution to the global community, aesthetic quality and workmanship. The judges also wanted to reward globally diverse project teams.