Switzerland: Stadler and Südostbahn AG (SOB) Introduce New 'FLIRT' For Voralpen-Express
Erlen, Switzerland: Stadler and Südostbahn AG (SOB) have launched the companies' new multiple unit 'Fast Light Intercity- and Regional Train (FLIRT)' for the Voralpen-Express. The "Traverso" will serve passengers travelling between St. Gallen and Lucerne.
Stadler is constructing 11 of the electric low-floor multiple units for SOB, which incorporate new motor bogies and other optimised carrying bogies, including a lightweight one which can be replaced quickly during repairs.
6 of the FLIRTs will have 8 carriages, which seat 359 passengers, and 5 of them will have 4 carriages, which can seat 197 passengers. The carriages incorporate designated spaces to suit the interests of different types of travellers: quiet spaces for commuters, panoramic windows for tourists, family areas and catering facilities. The specifications of the train adheres to EU regulations on accessibility for disabled passengers.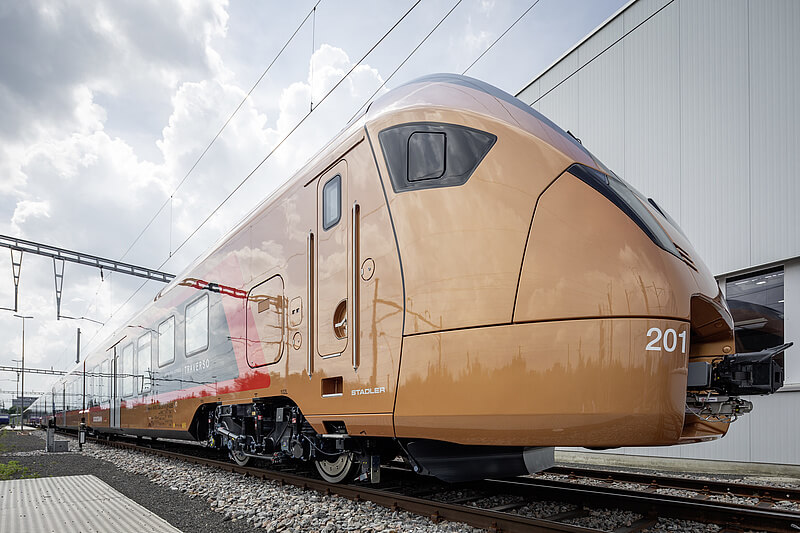 The arrival of the "Traverso" in Erlen was witnessed by approximately 200 guests from business and politics.
Thomas Ahlburg, Group CEO of Stadler, said:
"The two project teams worked extremely well together, which was very instrumental in enabling this train to be developed and constructed so quickly. Both companies have a pragmatic approach to challenges. This was apparent in the joint testing of new technologies for existing vehicles, for instance. We are grateful to be able to work for companies like SOB so that we can prove together that state-of-the-art technology can be developed and implemented in record time in the Swiss workplace."
The replacement of the trains for the Voralpen-Express by Stadler follows a prior modernisation of the entire SOB fleet at the end of the 1990s.
The "Traverso" operates at 160km/h and will enter service after the introduction of new timetables on the line in December 2019.