Recycled Carbon Fibre Rail Bogie Wins Innovation Award in Paris
The recycled carbon fibre rail bogie will now undergo extensive tests on the Institute of Railway Research £3.5m test rig at the University of Huddersfield.
Rail vehicle bogies made from recycled carbon fibre could lead to major savings for operators, with a 50% reduction in weight meaning a huge reduction in track wear and energy and maintenance costs. Now, a research team at the University of Huddersfield will carry out exhaustive tests to ensure that the concept can fulfil its potential.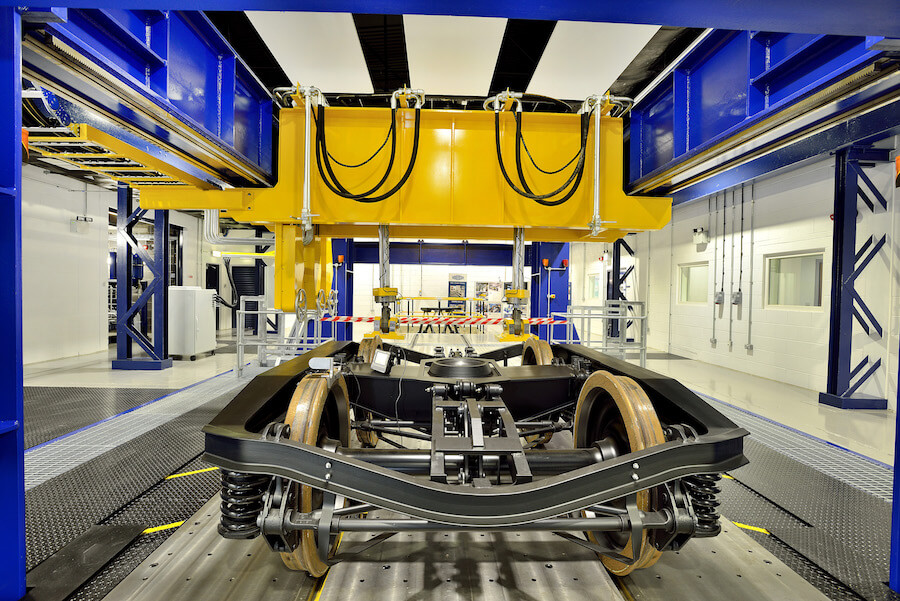 Institute of Railway Research Consortium
The University is home to the Institute of Railway Research (IRR).  It has joined a consortium that includes ELG Carbon Fibre Ltd, which has developed cost-effective means of recovering carbon fibres from manufacturing waste and end-of-life components, and Alstom Transport, a rolling stock vehicle manufacturer and maintainer and the Sensors and Composites Group, University of Birmingham. The consortium chose Magma Structures as their preferred manufacturer.  Magma has produced carbon composite masts for some of the world's largest superyachts and specialised carbon pipes for the highly-regulated offshore industry.
The Recycled Carbon Fibre Rail Bogie
The Rail Safety and Standards Board (RSSB) launched a vehicle dynamics competition, and the optimised lightweight carbon fibre rail bogie frame project was a winner, so that £1.25m of funding was made available to design and manufacture a prototype bogie for a rail passenger vehicle.  The University of Huddersfield's IRR helped with its specification and it will be constructed by Magma using recycled carbon fibres from ELG.
It will then be tested by the IRR in the first half of 2019, using its sector-leading facility named HAROLD (Huddersfield Adhesion and Rolling contact Laboratory Dynamics rig). The process will take several months and will include a fatigue test consisting of a million simulated load cycles.
The Institute's David Crosbee, a rail vehicle dynamics expert who will be lead engineer for the test phase of the project, said:
"This is the first time that recycled fibres have been used for a bogie frame"

"We will be characterising the frame's stiffness and using the results of our tests to validate the design"

"The process will culminate in a full bogie assembly running on the Institute's roller rig and we will finish with some dynamic testing."
Other potential benefits of carbon fibre are also being investigated.  The team from the Sensors and Composites Group based at University of Birmingham will be installing fibre optic strain/temperature sensors into the carbon fibre structure of the bogie, providing embedded condition monitoring.
JEC 2018 Composites Awards in Paris
The optimised lightweight carbon fibre rail bogie frame project has been named winner of the rail category in JEC 2018 Composites Awards in Paris.
Magma Structures Technical Director Damon Roberts accepted the award on behalf of the consortium and said:
"Rail operators are seeking to reduce costs associated with track damage, and the time and financial burden of regularly maintaining train carriage bogies and suspension units. The use of recycled carbon fibre is a key aspect of this design, and not only helps to make composite material solutions an attractive choice, but brings the benefit of reducing waste. The frame has benefits including weight reduction of at least 50% and reduced track wear and maintenance. High-volume manufacturing techniques are used to reduce the overall cost of the composite solution."
Original press release credit: University of Huddersfield
FOR ALL THE LATEST INFORMATION, NEWS, IMAGES, VIDEOS AND ARTICLES ON ALL ASPECTS OF TRAIN COMPONENTS, PLEASE CLICK HERE.