STIMIO to Announce the Signing of a 5-Year Framework Contract (2020-2025) for the Supply of IoT Connected Devices to Its Client SNCF VOYAGEURS
STIMIO, a tech company specialized in the supply of connected IoT solutions for industry (IIoT) announces the signing of a 5-year framework contract with its client SNCF VOYAGEURS for the supply of connected devices.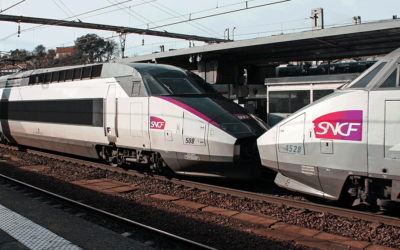 Since 2015, the SNCF group has embarked on a vast digital transformation program. A focus is made on the Industrial Internet and IoT projects to improve the quality of service provided to users, to improve the availability of rolling stock and to generate significant productivity gains. Maintenance costs can be reduced by 10 to 30%, with savings reaching millions of euros.
The framework contract signed with the Rolling Stock Department of SNCF VOYAGEURS covers the exclusive supply by STIMIO of more than 12,500 IoT devices – MARTI sensors and MELI* communication gateways – in order to equip TER, Intercité, TGV and Freight trains.
These railway-certified connected devices have been designed to answer many issues identified on rolling stocks. There are many use cases already deployed in commercial service: water level monitoring for sanitaries, windshield washer level monitoring, doors supervision, pressure in HVAC units, etc. Other use cases are also being investigated.
MARTI and MELI devices enable rolling stocks make trains communicate by using technologies that were not available at the time of their design. The connected railway vehicles can then transmit data in real time via a long-range and low-frequency LoRaWAN network. At the same time, teams from the SNCF VOYAGEURS Equipment Department carried out a work on the modeling of Return on Investments.