STIMIO Raises €1.7 Million to Accelerate the Digitalisation of Rail Maintenance
STIMIO, a specialist in B2B IoT and predictive maintenance, has once again been successful in its capital raising efforts, obtaining €1.7 million from Crédit Mutuel Innovation and 574 Invest, SNCF Group investment funds.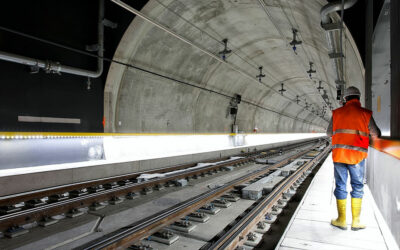 STIMIO, an Expert in Connected Solutions and Predictive Maintenance
STIMIO is a well-known player in the Industrial Internet of Things (IIoT) sector.  It designs and sells connected solutions, from sensors to data analysis platforms, all based on artificial intelligence. Founded in 2014, the company currently has more than 30 employees and is positioning itself on the rail and energy (utilities) markets. Its customers include the SNCF, TRANSDEV, CFL, THALES, ENEDIS, and even RTE.
It is currently developing and selling its Oxygen IoT suite, which consists of Oxygen Edge for data acquisition sensors and Oxygen Cloud, its enriched data recovery platform. This comprehensive solution frees its customers from the complexities of IoT projects (networks of ultra-low consumption sensors, telecommunications, applications developments, etc.), thus letting them focus on business data with significant added value. By combining AI and machine learning technologies, the platform predicts future behaviours and failures in order to better anticipate breakdowns and enable optimal service availability. The data collected and enriched by STIMIO can be easily integrated into its customers' information systems in order to be exploited.
STIMIO's solutions provide its customers with major advantages in terms of operational efficiency. In the rail sector, the remote, real-time monitoring of both rolling stock and infrastructure (rails, overhead lines, etc.) makes it possible to optimise maintenance plans. Connected equipment and subsystems that require specific attention are rapidly identified. With more than 10,000 certified sensors deployed at high-expectation customers, STIMIO has proven its knowledge and the value of its solutions.
€1.7 million in capital raised
This new capital invested by Crédit Mutuel Innovation and 574 Invest will allow the company to reinforce and consolidate its technological advancement in terms of AI and predictive models, as well as to accelerate its international development.
"We're thrilled to be able to count on Crédit Mutuel Innovation's support once again. After signing a framework agreement with SNCF Voyageurs, the arrival of 574 Invest, an SNCF Group investment fund, was also greeted with enthusiasm. '574 Invest's inclusion into STIMIO's capital shows our common goal of making STIMIO the European leader in the IoT for rail. It's an important mark of recognition both for our teams and our future customers."
"As an investor in STIMIO from the outset, our belief in the market potential of the technological and human foundations that the company has developed only strengthens our trust in this future IIoT leader. Its business model will allow the company to remain relevant in France and globally over the long term."
"STIMIO has been a partner of SNCF Group for a long time. It's offering meets the group's goal of accelerating the digitalisation and optimisation of our industrial activities. The relationship between STIMIO and SNCF Group is now even stronger thanks to the investment of 574 Invest."
"STIMIO stands out as a result of the technological expertise of its teams, its operational excellence, and the reliability of its products: these are three key factors in being successful in an industrial environment. 574 Invest is thrilled to accompany STIMIO as a part of this new stage of growth."
You will be able to run into STIMIO's team in 2021 at the SIFER in Lille from 26-28 October and in Madrid from 30 November to 1 December as a part of the RailLive convention!
This article was originally published by STIMIO.