Rolling stock operators manage heterogenous rolling stock fleets composed of recent and old vehicles. Older trains are less "connected" and therefore provide less monitoring data related to system status and health. Remote condition monitoring of train doors is then not supported on such rolling-stock fleet.
Security, Service Quality and Maintenance Costs as Main Concerns
Doors operation in trains is an important aspect of rolling stock maintenance and security, especially in older rolling stock where doors operation is not monitored.
For example, doors are under high mechanical stress during day to day operations and therefore regular time consuming and costly maintenance and verification are required. Also, doors malfunction, which represent a critical safety risk for passengers, needs to be avoided by all means.
Data Collection Using a Railway Certified Connected Device
Wireless real-time door monitoring can be easily added to existing rolling stock using STIMIO's off-the-shelf RAILNODE generic IoT device. With RAILNODE doors usage cycles number, door mechanical health as well as door state (open or closed) can be monitored in real-time.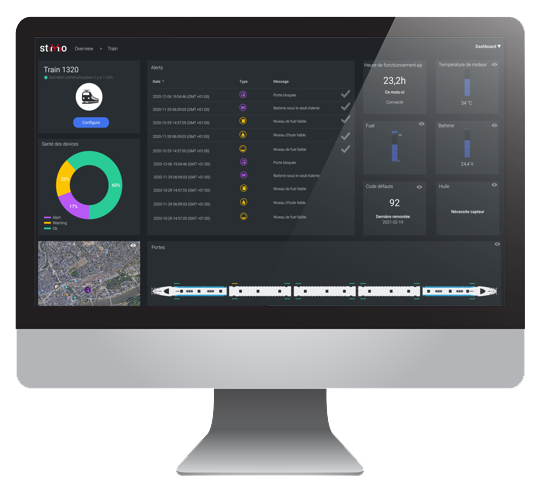 Monitored data is uploaded wirelessly directly to the cloud and can be visualised in OXYGEN which is STIMIO's cloud and visualisation solution. Alternatively, it can be also uploaded directly to customer's IT system.
RAILNODE runs up to five years on batteries and does not need any power cable. The installation is straightforward.
Increased Security and Optimised Maintenance
Using RAILNODE, rolling stock operators are able to decrease maintenance costs by planning maintenance based on actual doors condition (condition based maintenance). Also, for older trains using remote condition monitoring of train doors, passengers safety can be guaranteed by making sure all doors are actually closed while in motion.
A Wide Portfolio of Railway-Certified Connected Devices
STIMIO offers a portfolio of connected devices for the railway industry, covering a wide range of use cases to help operators face their many challenges. In addition to monitoring doors opening and closing, STIMIO's solutions are designed to monitor:
Fluid level inside rolling stocks (oil, water, sand…)
Battery voltage monitoring to prevent sudden drainage
Pantograph health and lifting function
STIMIO's end-to-end IoT solutions are already implemented in more than 30 use cases in the railway industry, for rolling stock remote condition monitoring, wayside and signalling concerns.
Learn more:
This article was originally published by STIMO.