Extreme Temperatures and Rail Transport Do Not Get Along Too Well
In summer, under a blazing sun, rails tend to heat up quickly. It is common to see a rail temperature about 20 to 25°C higher than the atmospheric temperature, with core temperature sometimes ending up to 60°C.
In these severe conditions, rails expand and buckle. To avoid induced derailment risks, every year, slow orders are issued forcing many trains to reduce speed.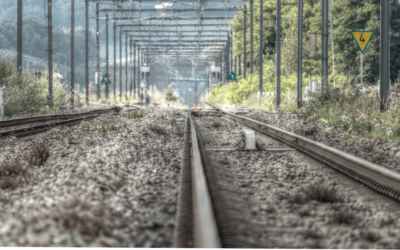 Therefore, real-time monitoring of rail temperature is a key information for every infrastructure manager to anticipate as much as possible and adapt his transportation plan to temperature conditions.
Monitoring Rail Temperature: An Easy-to-Implement Solution
When estimating rail temperature, infrastructure manager can use several solutions. Relying on weather forecasts is the most basic one, with issues with reliability as local forecasts strongly lack  accuracy.
This is the reason why STIMIO has developed an innovative solution to live-measure the rail temperature.
Rail temperature monitoring is a quick-to-deploy solution that is easily installed, directly on a rail coupon. A probe is fixed to the rail and connected by a cable to a communication box. This device, called Railnode, measures rail temperature, but also, pressure, distance, etc, Data is sent in the cloud and then displayed on a dashboard. Infrastructure managers can thus retrieve the information in real time.
Once the rail coupon is in place, the connected device is 100% autonomous. The Railnode no longer requires any human intervention and allows railway managers to considerably improve the quality and accuracy of the temperature information they have at their disposal.
An Efficient Supervision Platform to Follow and Anticipate Rail Temperature Variations
Receiving temperature readings is only interesting if they support decision making. That is why STIMIO proposes a cloud supervision platform.
It offers network operators the possibility to:
Create alerts and be notified when the rail temperature exceeds a certain threshold
Use the data collected by the connected device
Information is displayed on the OXYGEN Dashboard, a dedicated landing page, specially adapted and designed to suit rail operators' requirements.

Collected data can also be transmitted to in the company's information system, to already existing tools.
Use Case: Rhône Express Railway
The Rhône Express railway is operated by the Transdev company. Facing negative repercussions on its network due to frost and hot temperature, Transdev called upon STIMIO's know-how on rail temperature monitoring.
Several connected devices have been installed at different points in the network to monitor the rail temperature.
A better anticipation of this called buckling effect leads to:
A significant reduction of reaction times in case of an incident on infrastructure components, thus minimising delays and cancellations
An increase for customers in both service availability and satisfaction rate
A better response, when appropriate, to operating contracts signed with local authorities
A reduction of on-site interventions, only when needed and on relevant sections resulting in savings on maintenance costs
For infrastructures and the whole rail lines: a better control of operating costs
"The STIMIO solution allows us to anticipate the impact of temperature variations on the rail. We can improve the line's availability rate by avoiding several technical incidents each year, and thus reduce the maintenance cost of our infrastructure."
This article was originally published by STIMIO.