Stäubli: Strong Connectors for Swissloop
Swissloop once again calls upon Stäubli's performance and know-how.
A new round of Elon Musk's Hyperloop Competition for high-speed transport systems in evacuated tubes will soon take place, following the pre-qualifications that were held in fall last year. The technical concept of the newly formed young Swissloop team from the Zurich ETH proved convincing and in the second examination round at the beginning of the year they got the positive answer for the trip to the SpaceX launch site.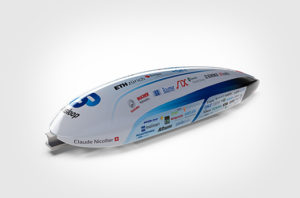 Mastering Challenges
The technical specifications for the competition are clear: the transport capsule must ensure maximum speed, self-propulsion and successful deceleration. The benchmark set by last year's winner was 284 mph. The construction must be light, but robust, in order to withstand the forces. The engineering team for the batteries and power must develop a solution that ensures both high performance and resistance to vacuum conditions. Alongside inventive spirit, creativity, expertise and strength of purpose, the young engineers are also looking for industry partners with know-how and technological solutions. As such, a large number of sponsors are supporting the Swissloop team, not only financially, but also in terms of machine tools, knowledge and materials.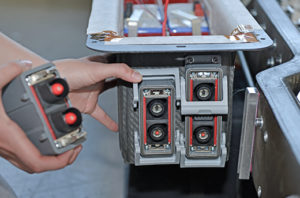 Loss-Free Power Transmission
Stäubli provided the light, compact electrical connectors between the batteries and the power inverters fitted on the linear motor. The modular CombiTac system with its free configuration provides safe electrical power plus monitoring and control signals, reliably and without losses. Stäubli's pluggable connectors enable batteries to be changed quickly and accurately. The MSD solution (manual safety disconnect) is also produced using Stäubli's CombiTac connectors.
An Awesome Experience for Young Talent
Miguel Angel Quero Corrales is an electrical engineer and is responsible for development and battery design within the young team. He says:
We needed connectors that could ensure minimal contact resistance and high energy efficiency, without allowing power to be lost. The robustness of the CombiTac systems and the many possible combinations from low voltages to signal transfer for battery management and power contacts for the energy all made CombiTac the perfect solution for us.
For the members of the Swissloop team, the project promises to be a truly unique experience.
Tamara Hoffmann (mechanics and construction) says:
We are part of a real, comprehensive process, from the first vague ideas, the plan printing and CAD models, to calculations and up to the finished, fully functioning components as part of the whole in a high-power and high-speed competition.
The talented young engineers benefit from exchanges with specialists from expert manufacturers and will now be working at full speed in the last weeks before shipping their creation and traveling to the fourth annual Hyperloop Pod competition in Los Angeles on July 21.