Technical Experts for Advanced Reliable Electrical Connections
Low-carbon journeys on public transportation, high-voltage power supplies, data collection to increase safe operations and radio systems to improve train performance guide the technology innovations in railway. As a specialist for long-lasting and high-quality electrical connectors, Stäubli Electrical Connectors is an experienced partner for railway engineers.
Whether it's for the high-power transmission in train applications, for electrification of railway lines in some parts of the world or for data and signal transmission in communications, Stäubli's reliable and powerful connection solutions are a recommendable option. Not only because of their proven longevity, but also because of its experts' know-how and skills to design dependable and top-performing pluggable railway connection solutions.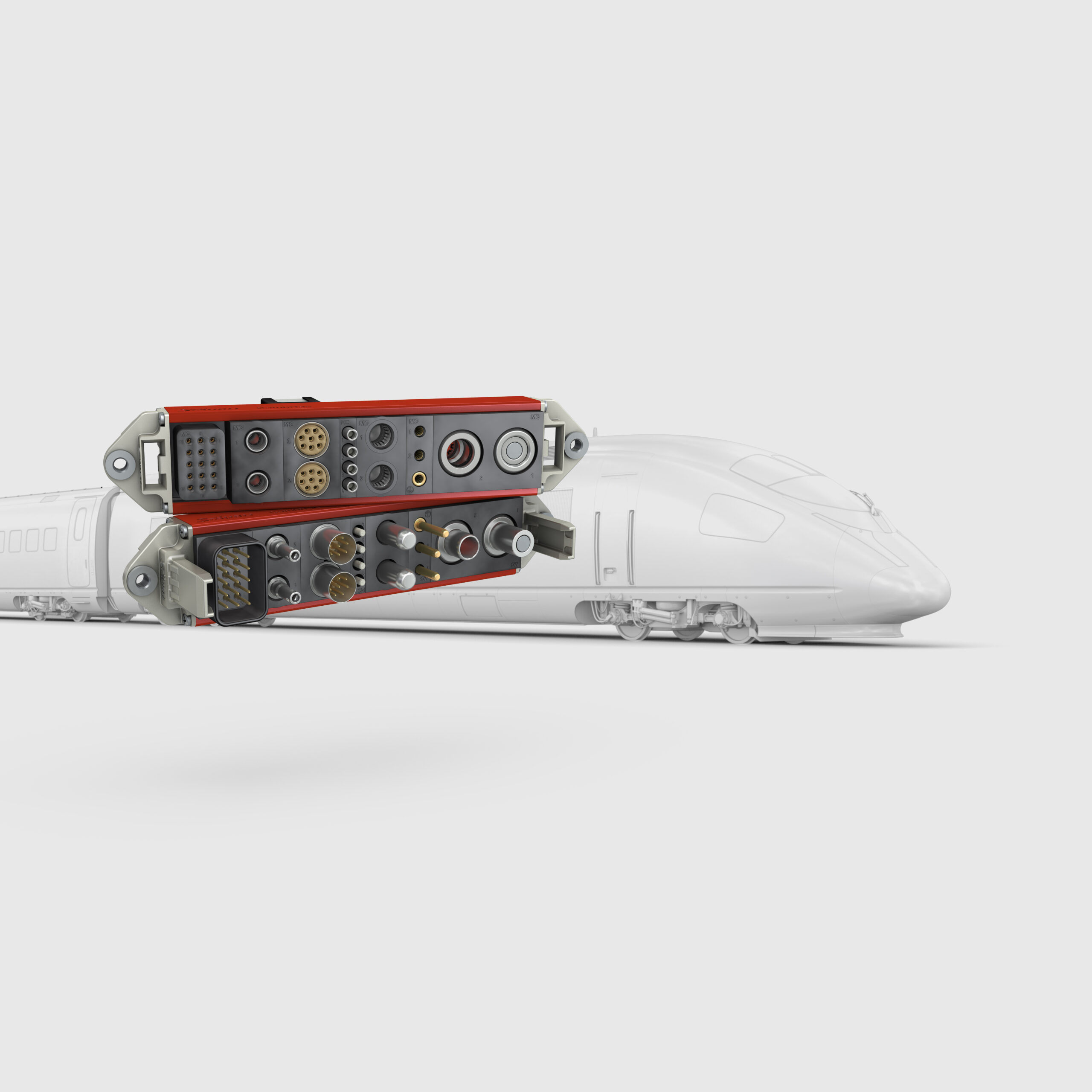 Flexible Connection for Telecommunications
Well-known suppliers of infrastructure and onboard equipment rely on the Stäubli connectors. When it comes to providing reliable service for voice and data communications from the driver cockpits in metros, trams and trains to the control centres advanced telecommunication equipment is implemented. These systems receive and transmit various data such as signals, alarms or messages, often feature a modular and flexible design, and require the hook-up of all media and power in one compact, but freely configurable connection according to the customer's design specifications.
Stäubli's modular and fully customisable connector system CombiTac makes it possible to integrate any contact device with various performance features, as for example Coaxial 50 Ohm, CAT5, 10 GBits, signal and power. Like all Stäubli connectors, the CombiTac is tested above and beyond the requirements of the industry standards and is specifically certified according EN 45545-2, EN50467, EN61373 to be fire, shock and vibration resistant.
Safe Power Connection
For rackable battery applications on trains, international rolling stock manufacturers use Stäubli's solutions for quick connection and disconnection to ease the installation, improve the efficiency during maintenance and ensure low downtimes. Such connections need to provide the highest reliability and guiding for misalignment. Safety is a key priority in the railway industry and compliance with IP2X for touch-proof design and EN 45545-2 with HL2/HL3 R23 are basic prerequisites for such components. Again, the Stäubli CombiTac conforms to all of these requirements and industry standards and is also capable of withstanding harsh environments.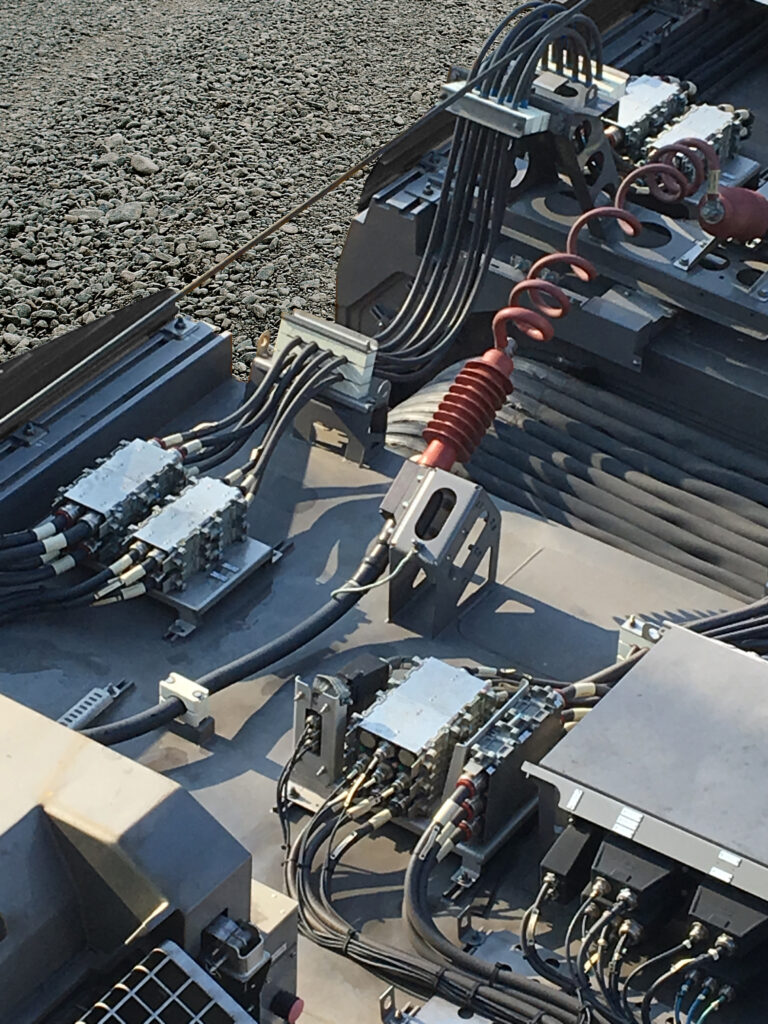 © Stäubli
Robust and Compact Inter-Car Connector
Other essential electrical connections on trains are applications along the whole traction chain, such as inter-car, traction motor to bogie and converter in-/output connections. The universal, compact and modular Stäubli MPC is a facilitator to increase process efficiency during installation as well as during maintenance. A quick section separation when replacing motors helps to minimise downtime. The very compact, space-saving design of the MPC is an advantage for construction as well as installation and maintenance. Numerous trains made by different manufacturers around the globe run with Stäubli MPCs. In terms of functionality the MPC delivers durability and low-loss energy transmission for high currents, maximum shock, impact and vibration resistance and the highest robustness – even in extreme climatic conditions.
With the Dynamic Cable Option (DCO) Stäubli's specialists developed a strain relief to complement the company's portfolio in railway connection solutions, which is suitable for various high-current and high-voltage applications. The system eliminates mechanical stress on the cable glands and contributes to the durability of the connectors. To round off the service, customised cable assembly is also available and Stäubli also carries out customer-specific test procedures its own test laboratories.
High-power connections are also needed in the converter cabinet. The Stäubli bipolar fork connector connects the IGBT module (insulated gate bipolar transistor) to the bus bars. The higher the travelling speed of the trains, the greater the physical forces; therefore vibration resistance and stability are essential.
Advanced Contact Technology
At the core of all these high-performance railway connection solutions is the unique MULTILAM contact technology. With the lowest contact resistance and far above-average service life, it allows for highly efficient energy transmission. The specially shaped and resilient contact elements provide high electrical, mechanical and thermal performance. Thanks to their constant contact force, MULTILAM louvers ensure continuous contact with contact surfaces. This results in consistently low contact resistance and excellent contact quality with a long service life.
We Do Quality
Stäubli owns the entire process from the first conceptual idea to the end product. As a certified manufacturer Stäubli meets all the requirements of the global markets and complies with international standards and local regulations. The ISO/TS 22163 certification, formerly IRIS – International Railway Industry Standard, confirms the suitability of the company's quality management system and know-how for the requirements of the railway sector. Beyond official certifications, Stäubli even places a higher value on field data, testing by customer specifications and performing long-term in-house testing to guarantee quality and durability. The company's own test laboratories worldwide are regularly reviewed by the national and international standard organisations. At the same time, Stäubli experts participate actively in the relevant standards committees and can therefore quickly adapt to changes. During the evaluation processes and quality tests, Stäubli engineers push the products and components to the limit, while simultaneously determining the absolute safety limit set by the application requirements. The comprehensive tests simulate extreme ambient conditions as well as the mechanical and electrical strain the solutions will have to withstand when in railway operations. Thus, functionality and safety can be guaranteed with a maximum load.
About Stäubli
Stäubli offers innovative mechatronic solutions in three core areas including Connectors, Robotics and Textile. Founded in 1892, today Stäubli is an international group headquartered in Pfäffikon, Switzerland with more than 5,500 employees worldwide. Stäubli has a presence in 29 countries with production companies, sales and service subsidiaries and is supplemented by agents in 50 countries.
As a world market leader in the field of connectors, Stäubli manufactures quick connector systems for all types of fluids, gases and electrical energy. The Electrical Connectors product portfolio (formerly Multi-Contact) ranges from miniature connectors to high-performance connectors for power transmission, industrial automation, transportation, test and measurement. In Photovoltaics, Stäubli is the global market leader with its MC4 connector components. The core of all Stäubli electrical connectors is the unique MULTILAM technology.