Stadler Lands Contract for 12 Additional FLIRT Traverso Trains for Switzerland
Stadler has signed a contract with Schweizerische Südostbahn AG (SOB) to supply an additional 12 FLIRT trains. Starting on 12 December 2021 SOB will run an hourly service between the town of Chur and the cities of Zurich and Bern. Swiss Federal Railways awarded the long-distance franchise to SOB in July 2017. SOB says it will operate Stadler's Traverso trains on this route.
Read: Stadler's 7 Innovations at InnoTrans 2018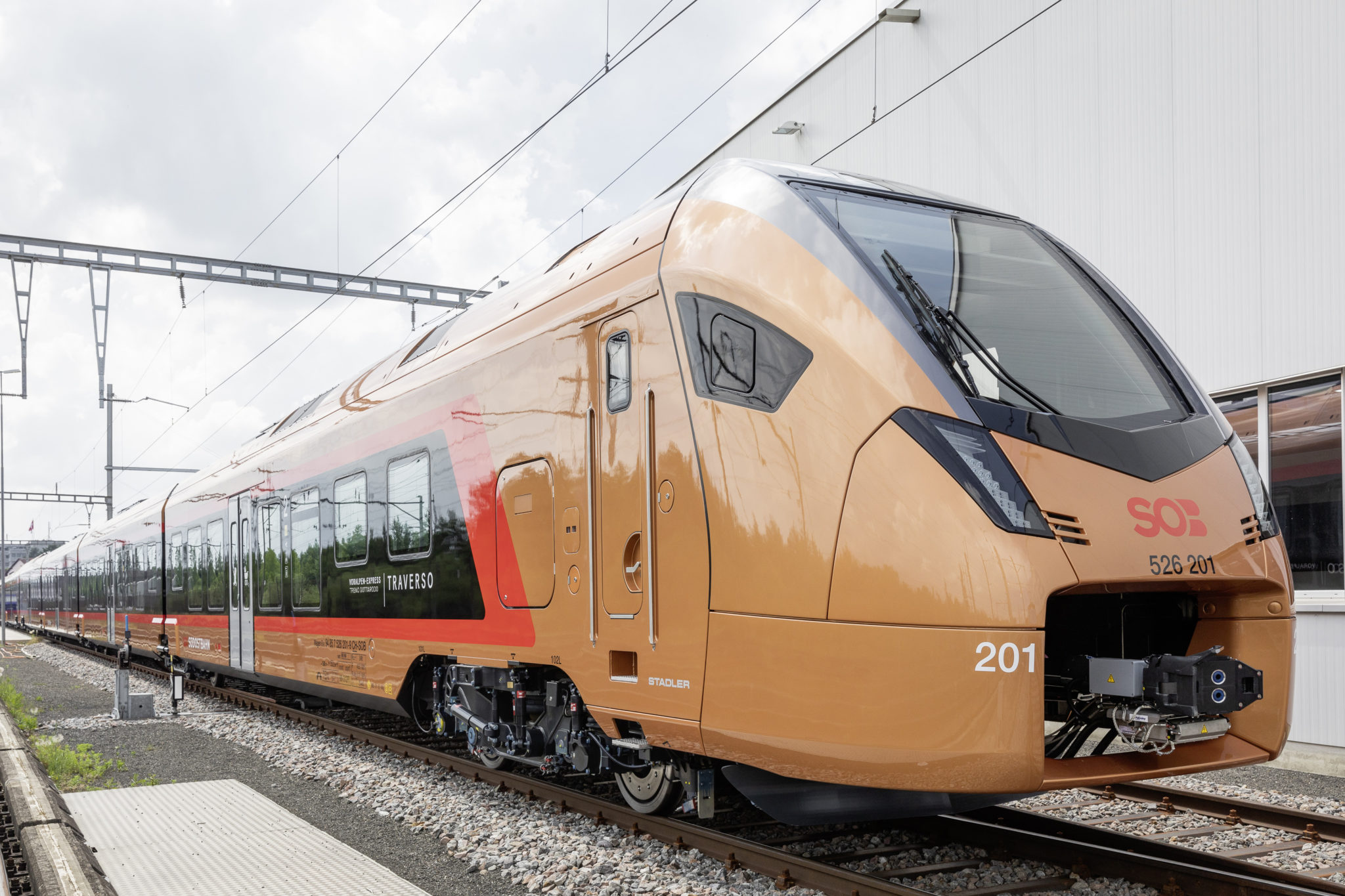 Contract for 12 Additional FLIRT and FLIRT Traverso Trains
SOB and Stadler have signed a contract for the supply of 12 additional FLIRT trains. In particular, seven of these trains will be eight-car copper-coloured multiple units, type FLIRT Traverso. There will also be five four-car silver-coloured FLIRT trains.
FLIRT Traverso Trains
Designed for long-distance travel, the Traverso multiple units are innovative and comfortable. They have 359 seats, of which 68 are in first class. All seats come with power sockets. Passengers can get food and drink from two bistro zones. There is also a family area.
These trains fulfil the latest European laws pertaining to equal access for disabled persons. Each carriage comes equipped with four to seven passenger information screens. SOB will start operating the Traverso trains on the Voralpen-Express route between St Gallen and Lucerne starting on 15 December 2019. Then they will enter service on the Gotthard mountain route (the Treno Gottardo route) on 13 December 2020. Finally, they will operate between Chur and Bern (the Aare Linth route) from mid-December 2021 onwards.
Read: Lantal: Comfortable All Across Switzerland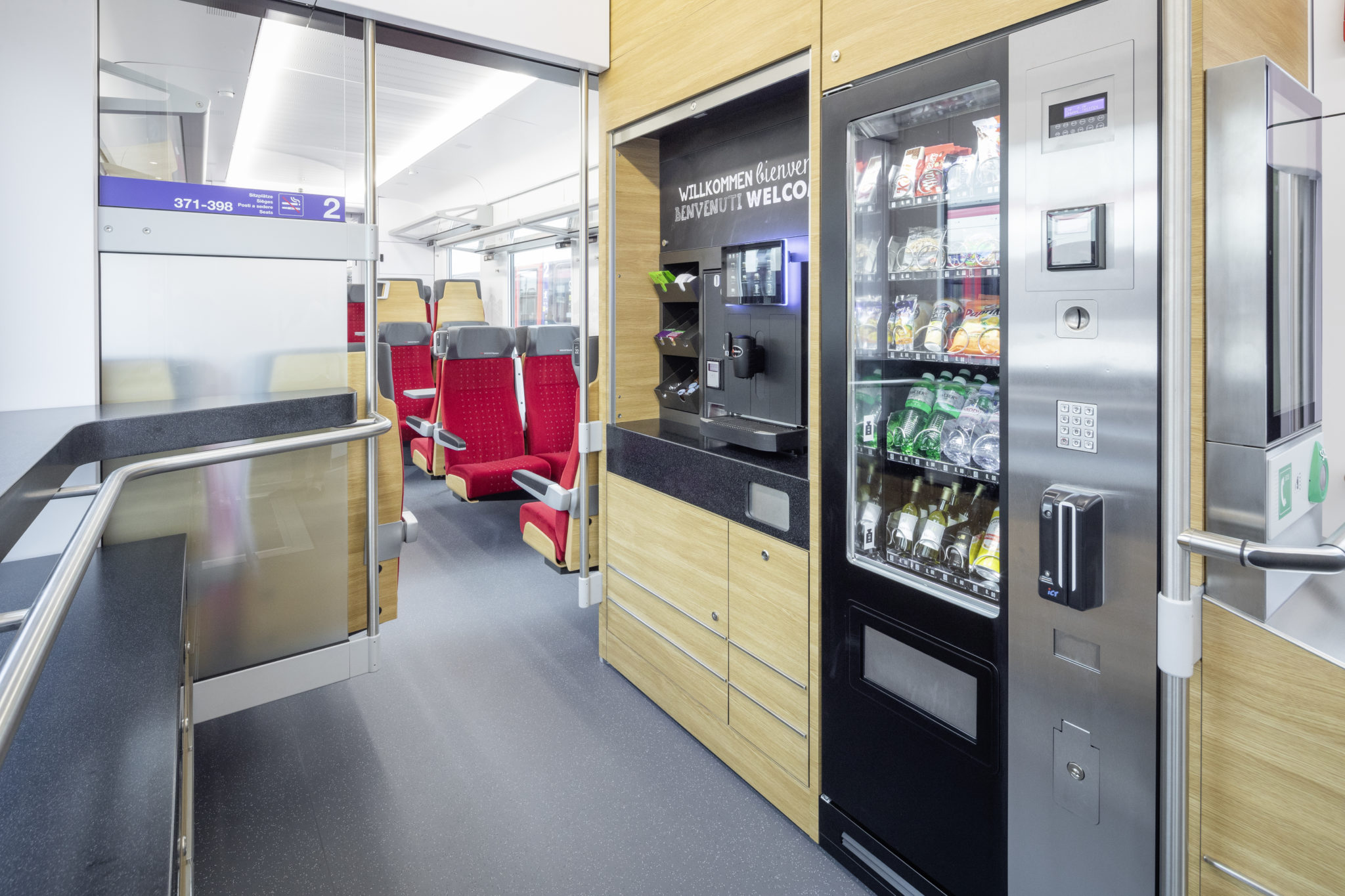 Total SOB Order for 34 Trains
SOB ordered six eight-car and five four-car low-floor EMUs from Stadler at the end of June 2016. SOB wanted to replace its older trains, some of which have been in service for 40 years, in time for the new timetable in 2019. The eight-car trains will run on the Voralpen Express route between St Gallen and Lucerne. The four-car multiple units meanwhile will support the FLIRT fleet on suburban services. These latter EMUs have 197 seats of which 22 are in first class.
Read: Switzerland: Stadler and Südostbahn AG (SOB) Introduce New 'FLIRT' for Voralpen-Express
Starting on 13 December 2020 SOB, in co-operation with SBB, will run the new Traverso trains on the long-distance route between Basel / Zurich and Locarno across the Gotthard mountain route. SOB has ordered eleven additional eight-car Traverso trains for this route as part of a contract option in December 2017.
Chur-Zurich-Bern is the second route that SOB will run on behalf of SBB. SOB is taking advantage of a second option with the contract signed today for seven additional eight-car Traverso trains and five four-car FLIRT trains.