Construction is now underway on the Ligerz tunnel in Bern, Switzerland.
This is part of a project to eliminate a bottleneck between La Neuveville and Twann: a 4.5-kilometre-long section of single track and the last of its kind on the southern Jura line.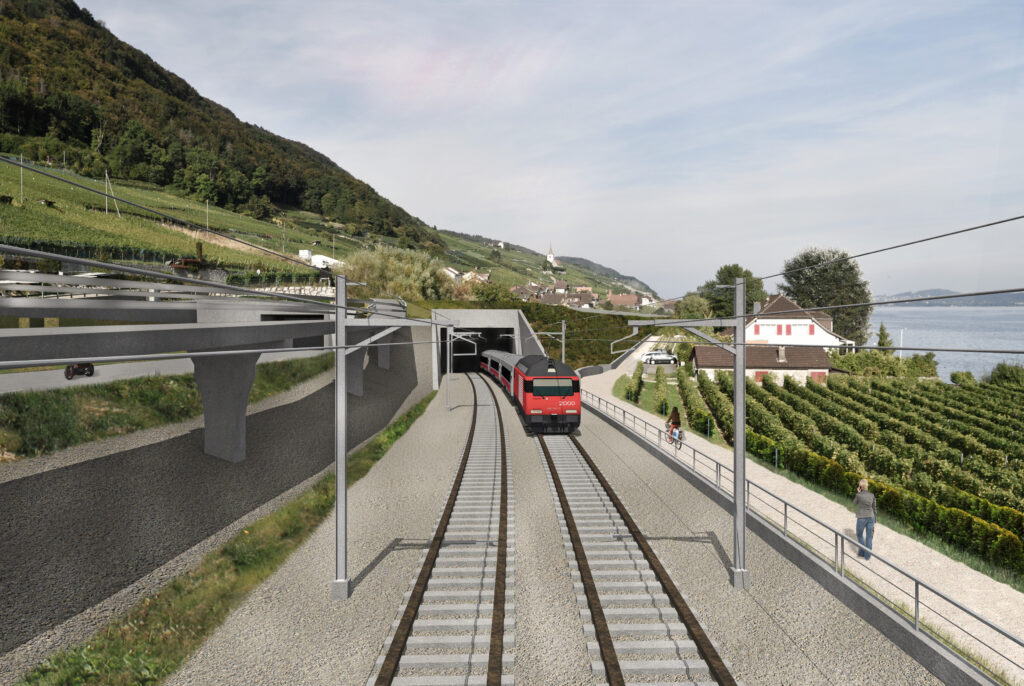 By expanding this section to double track and constructing the 2.1km-long tunnel, Swiss Federal Railways (SBB) will be able to increase rail capacity and improve timetable stability.
The tunnel will also help minimise railway noise for local residents.
Funded by the Railway Infrastructure Fund (BIF), the estimated cost of the project is approximately 431 million CHF (426.2m euros | 464m USD).
Preparatory work on the expansion project began at the end of 2021 including earthworks around the location of the future tunnel's west portal.
Track geometry is also currently being adjusted in a curve near Poudeille in order to enable trains to run faster on this section and work on the cut-and-cover section of the tunnel, using bored piles, will begin this summer.
Tunnel construction will start in earnest next year. Due to restrictions related to its location, the tunnel will be excavated using conventional blasting in order to reuse as much of the excavated material as possible.
SBB is taking numerous measures to protect residents from construction noise including building sound-absorbing walls around construction site areas and night-time work will be kept to a minimum.
A ground-breaking ceremony for the tunnel was recently attended by Christoph Neuhaus from the Canton of Bern government, Anna Barbara Remund, Deputy Director of the Federal Office of Transport (FOT) and Peter Kummer, Head of the SBB Infrastructure Division.
Here they unveiled a digital impression of the future western tunnel portal.
This project has been a long time coming. Plans for a double-track expansion of the Jura-Südfusslinie was put forward by SBB back in 1942, however the expansion of the cantonal road in La Neuveville was considered a bigger priority.
After several attempts, the project was finally relaunched by SBB in 2013.
Construction of the double track expansion and Ligerz tunnel is scheduled for completion by the end of 2026.