SINTRONES New AI GPU Fanless Rolling Stock Computer: ABOX-5210(G)-M12X
SINTRONES, one of the global leaders in computing technology for vehicles, announces the launch of the new AI GPU Fanless Rolling Stock Computers:  ABOX-5210-M12X and ABOX-5210G-M12X (with NVIDIA® GeForce GTX 1650 or 1060 GPU). The new fanless box computers have Certified EN50155 Rolling stock standard and are designed for a variety of demanding environments in railway applications.
New ABOX-5210(G)-M12X Fanless Box Computer is powered by Intel GEN 10th 10 Cores Xeon W-1290TE / i9-10900TE AI GPU Computing. It has 8 x DI & 4 x DO & 3 x RS-232/422/485 I/O ports, 9-48V DC Input and wide range operating temperatures 40ºC ~ 70°C that can be operated in extreme weather conditions. It provides 2 x 2.5″ Drive Bay for SATA Type HDD/SSD RAID 0, 1, 5 and 1 x M.2 M key 2280 slot supports NVMe and SATA SSD. ABOX-5210(G)-M12X also features optional 8 port PoE for connecting with max. 8 x IP camera.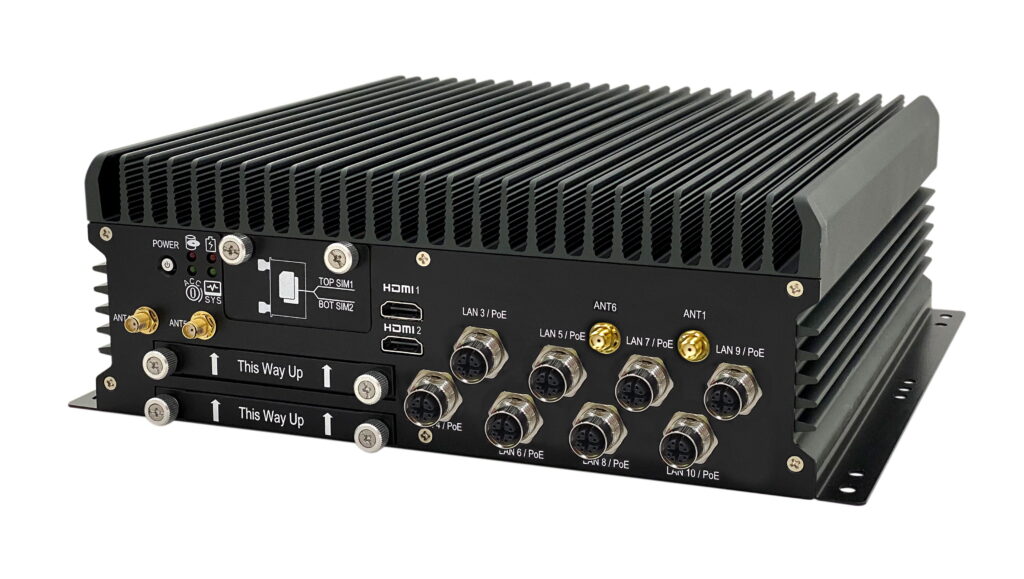 ABOX-5210(G)-M12X is specifically designed for railway rolling stock applications that guarantee reliable performance, withstanding environmental disturbances such as severe shock and vibration in railway vehicle applications. It features 8 x M12 X Coded Connectors for GbE and certified Rolling Stock EN 50155 & EN 50121-3-2 that cater to rolling stock's application including traffic safety systems, passenger information systems, broadcasting systems as well as surveillance systems and so on.
With the new Intel Gen 10 Comet Lake and NVIDIA® GeForce GTX 1650 or GTX 1060 technology's outstanding performance, ABOX-5210(G)-M12X can effectively support smart public transit systems. It offers a variety of cutting-edge systems, incorporating high-performance processors especially for smart public transit infrastructures. For trains that operate at high speeds through tunnels and extreme weather conditions, by implementing New ABOX-5210(G)-M12X Fanless Box Computer and cameras, the system assists in monitoring and carrying-out the flow of passengers in the vehicle to avoid overcrowding and to reinforce social distance protocol. In addition, drivers can confirm whether people are wearing face masks. ABOX-5210(G)-M12X solutions enhance the operational efficiency of railways and railway station management.
Key Features:
Intel GEN 10th 10 Cores Xeon W-1290TE / i9-10900TE
NVIDIA® GeForce GTX 1650 or 1060 GPU (for 5210G)
8 x DI, and 4 x DO and 3 x RS-232/422/485
1 x M.2 B key, 1 x M.2 A-E key & 3 x MiniPCIe expansion slots
Dual Hot Swappable SATA Storage RAID 0,1,5
9-48V DC Input and Operating Temp.: -40~70°C
2 x RJ45 Ports and 8 x M12 X Coded Connectors for GbE (Optional 8 x PoE)
Rolling Stock EN 50155 and EN 50121-3-2 certified