Electrified Lines Are Always On. So Always Stay Off.
Network Rail has launched a multimedia campaign to spread an important railway safety message as work continues to electrify the Midland Main Line between Kettering, Corby and Bedford.
The suite of collateral includes a haunting radio message portraying electricity as having a dual personality, highlighting the benefits which electricity delivers but also the peril it can bring if not respected.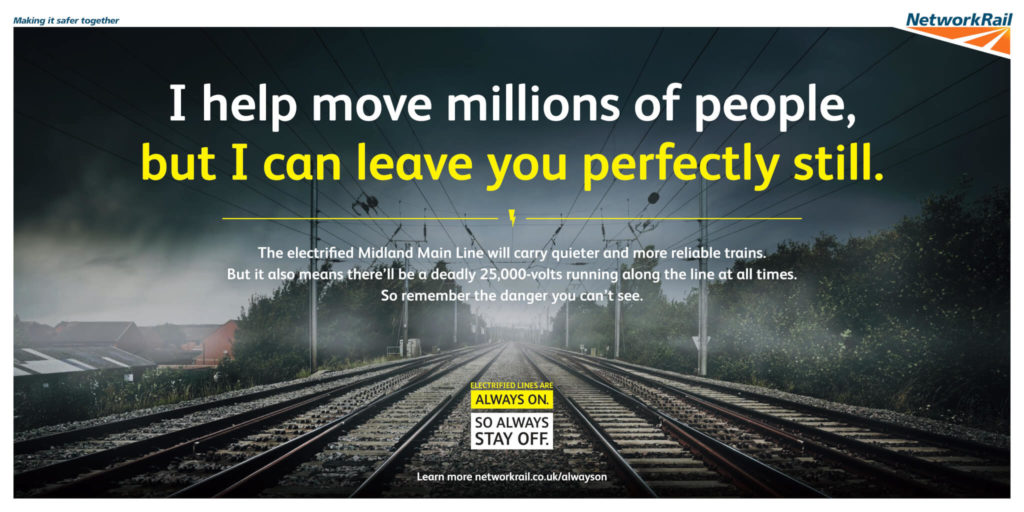 The Dangers of Trespassing On Electrified Railway
The campaign warns of the devastating impact trespassing on electrified railway can have and urges people to stay safe and keep off the track. The new overhead line equipment, which is being installed on the line between Kettering, Corby and Bedford, carries 25,000 volts, an amount which can be fatal to anyone coming into contact with it.
The newly installed equipment poses no danger to anyone, providing people use the railway correctly and stay behind the fences which are there to keep them safe.
Multimedia Campaigns
As well as the radio advert, which will be broadcast on various radio stations throughout the region, regional newspapers will also print the advert and posters will be installed at stations along the route. Network Rail will also launch a digital campaign this summer to make sure as many people as possible are reached.
Vicki Beadle, Community Safety Manager at Network Rail, said:
"Safety is our top priority and this campaign does a fantastic job of highlighting that you are dicing with death if you choose to trespass on the railway.

"The newly installed overhead lines carry a huge amount of electricity and can seriously injure or kill anyone who comes into contact with it. It's so important that everyone recognises the real danger that this equipment can bring and heeds the warning."
Safety Workshops
In addition to the advertising campaign, Network Rail continues to visit schools in areas where the line is being upgraded and has recently carried out a workshop at The Latimer Art College in Kettering. The workshop focuses on electrical safety and warns youngsters that they are risking their lives if they choose to play on the railway. The ideas generated in the workshops will be used to script a dramatic film that will be produced and shared on social media to highlight the repercussions of irresponsible behaviour around electrified wires.
Jo Milson, a teacher at Latimer Art College, said:
"Our workshop was fantastic. The workshop leaders engaged some of our most challenging students and inspired them to participate in a way that even our most experienced teaching staff struggle with.

"The students didn't want the workshop to end and felt a real sense of pride that their ideas might contribute to a much bigger project and ultimately help get the message of rail safety out to other kids their age. We cannot wait to see the finished project."
Original article © Network Rail.
FOR ALL THE LATEST INFORMATION, NEWS, IMAGES, VIDEOS AND ARTICLES ON ALL ASPECTS OF RAILWAY SERVICES, PLEASE CLICK HERE.