SIKA: 20+ Years of Experience in Sealing and Bonding Solutions for Rail Assembly Lines
For over 20 years, Sika has been providing rail assembly lines with sealing and bonding solutions for all aspects of the vehicle build. Primerless pre-treatment options are available to fit the needs of a variety of application processes in order to create cost savings and process simplification.
Glass Bonding
Specific Sikaflex® solutions are available to suit cold, warm and hot application processes. Proprietary Sikaflex® materials retain the glass in position following installation, allowing for elimination of secondary fixings and tape. The Sika® Booster range provides the ultimate solution for OEM's seeking excellent mechanical properties with the shortest-possible full cure time. Sikaflex®-268 and Sikaflex®-268 PowerCure are two of the primary options giving designers and engineers the confidence of a product that is well established and will offer improved resistance to typical rail cleaners whist also offering superior mechanical properties. The Sika® PowerCure system offers all of the benefits of Sikaflex®-268 with the improved curing rates that not only allow for faster manufacturing through-put but also offer a unique and fast product for the aftermarket where rail operators can get vehicles back in service sooner and safely.
Exterior Bonding And Sealing
Rail vehicle manufacturers face complex and varied challenges in the design and assembly of the roof and mask systems for modern rail vehicles. High speeds, harsh environments and aerodynamic structural stresses within the vehicle have to be accommodated when selecting the correct adhesive solution. Sika offers a range of elastic and rigid bonding solutions to enable rail manufacturers to satisfy these challenging demands. Sikaflex® provides high-performance elastic assembly with easy-to-use one- component formulations. Sikaflex®hybrid technology offers the high performance of Sikaflex® polyurethane systems combined with reduced substrate preparation and improved ecology. Sika® Booster technology offers the high-performance attributes of Sikaflex® combined with rapid full cure and SikaPower® offers improved crash resistance and durability. SikaPower® is a unique two- component epoxy adhesive that can be used where joints require exceptional high strength whilst maintaining significant impact resistance properties courtesy of the Sika® patented SmartCore technology. Improved stiffness and durability can be achieved with this unique offering all whilst commanding the required standards for smoke and toxicity according to BS EN 45545-2 up to the most stringent hazard level rating.
Interior Sealing
Modern rail vehicle interiors need high durability and service life expectancy in order to meet the day-to-day requirements of transporting large numbers of people in comfort and safety. Rail vehicle operators demand high performance and reliability from their rolling stock to reduce down time and remain competitive. Sika® has several solutions capable of providing durable elastic sealing and high-performance adhesive bonding to many common substrates. Sikaflex® polyurethane sealants and adhesives combine simplicity of application with excellent durability. Sikaflex® Hybrid technology (based on Sika's silane terminated polymer technology) combines the performance of traditional Sikaflex® polyurethane systems, but demonstrates additional benefits such as reduced substrate preparation and improved worker safety. Sikaflex®-821 FR is a one- component polyurethane sealant with great application properties and impressive sealing capabilities. It also has good ageing resistance and excellent hydrolysis stability which tends to be an important attribute for passenger vehicles with high volumes of passengers. Sikaflex®-821 FR will bond to a wide variety of different substrates allowing for a product that can be used in a variety of interior sealing applications.
Underbody Coating
Rail operators and government bodies are demanding ever-tighter standards of interior and exterior vehicle noise. Sika offers high-technology solutions to facilitate significant reductions in vehicle noise via absorption of vibration within the vehicle body. Sikagard®-6682 can be used for interior or exterior noise damping and underbody coating with excellent sound deadening and stone chip resistance. The product is solvent-free with overpainting an option for areas within the vehicle that are susceptible to high levels of noise. Sika also offer local support with an expert systems engineering team that can support application processes to ensure high quality can be achieved every time.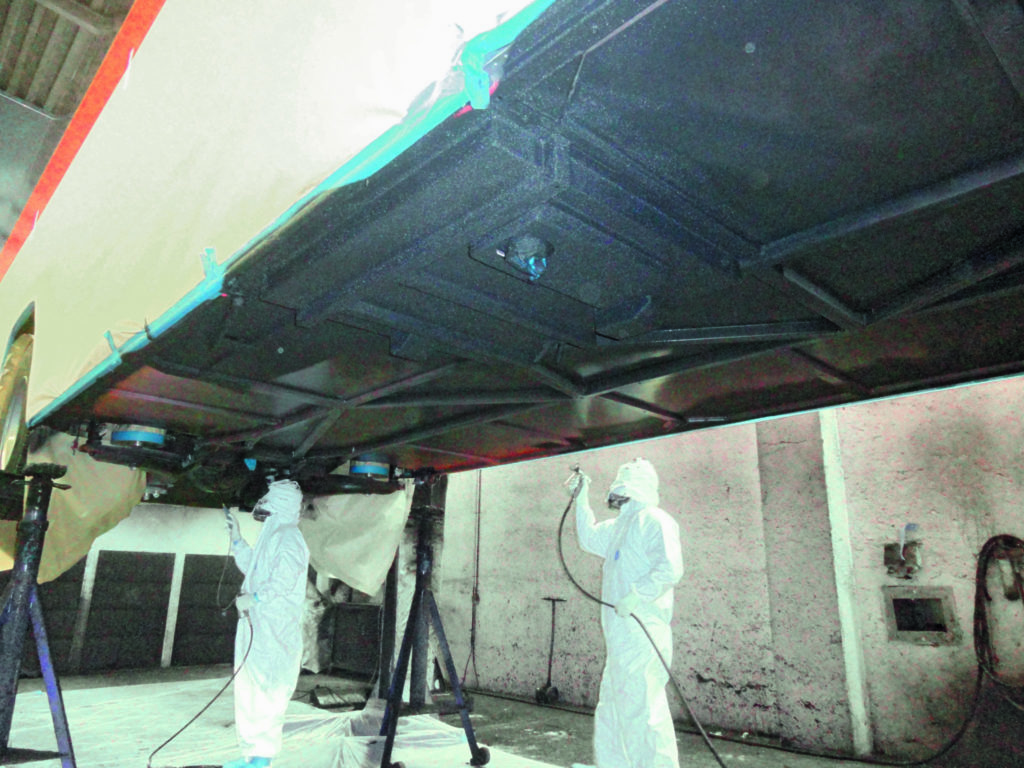 Intumescent Coatings – Fire Protection
With ever increasing legislation surrounding fire on transportation this in turn increases demands on engineers in global OEMs to be up-to-date with the latest requirements with passenger safety as the focus. Sika not only offers a wider range of adhesives and sealants that conform to these ever increasing requirements but also have a range of intumescent coatings with exceptional performance capabilities. Sikagard®-831 is a modified epoxy-based coating designed to protect critical metal components within the vehicle build. It provides combined protection from both fire and corrosion and it is easily applied with standard airless spray equipment.
Sika will feature these products at the 2019 Railtex event held in the Birmingham NEC, UK, on the 14–16 May. You can find us at Stand J61 where one of our expert team members will be on hand to advise and support any enquiries you may have.