Getting a derailed metro back on its tracks in a tunnel is a difficult job. Commissioned by GVB, Holmatro supplied a lightweight Rerailing System that offers extra flexibility in use.
Solution provider: Holmatro
Commissioned by: GVB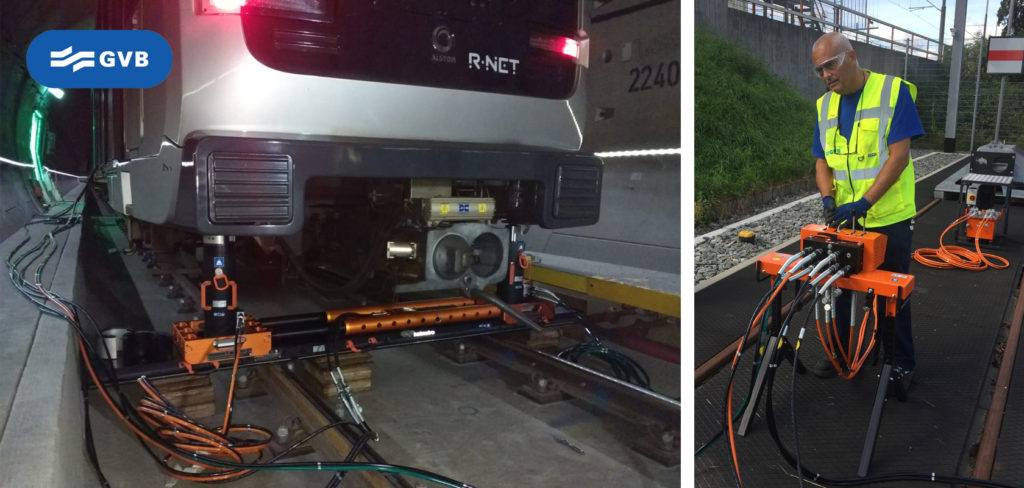 Situation
The Dutch municipal transportation company GVB provides public transportation in and around Amsterdam. Some 850,000 people use GVB metro, tram or ferry services on a daily basis.
The new Amsterdam metro line 52, also known as the North/South line, was opened in 2018. This metro line runs from Amsterdam North under the old center of the city and through to Amsterdam South. It has a length of 9.7 kilometers, 7.1 of which are underground.
Challenge
Getting a derailed metro or tram back on its tracks is a meticulous and time-consuming job. With the arrival of the North/South line, rerailing a railway vehicle on this line will be an even greater challenge, considering the limited working area in the tunnel section. GVB was looking for a rerailing system that fulfilled their specific requirements of being able to work quickly and safely in the underground part of the North/South line.
Solution
Based on the existing Rerailing System, Holmatro developed a customer-specific system that is flexible and fits the measurements of the sunken track bed and the limited walking area on both sides of the bed.
An especially lightweight and flexible system was created for GVB by making use of two twin pumps, controlled by two separate control desks. Both 220V pumps are equipped with carrying handles on the frame, which makes it easy for two persons to move it. The control desks are collapsible and therefore take up very little space. Control desk A controls the lifting cylinders as well as the traverse cylinder and is developed for light to normal derailments. Control desk B controls two extra lifting cylinders , which provides more lifting capacity during heavier rerailing jobs. Both control desks can be operated separately or simultaneously. For extra safety, control desk A is equipped with four valves and a selector lever so that the user can never lift and skid at the same time. Extra low and custom-made beams make it possible to easily place the tool in the sunken bed under the metro.