Netherlands: State Railway Operator Upgrades Trains for Passengers with Disabilities
Nederlandse Spoorwegen (NS), the state railway operator in the Netherlands, has contracted a Bombardier-Siemens consortium to make their EMU fleet of Sprinter Lighttrains (SLT) more accessible for passengers with limited mobility and visual impairments.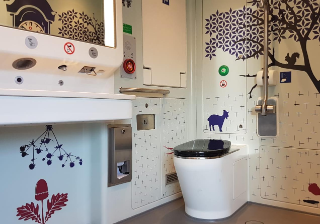 Bombardier-Siemens services' technicians are equipping 131 trainsets with a sliding step in the doorway, two dedicated wheelchair spaces near an emergency button, and a large disabled toilet. The technicians are also adding a tactile information system so visually impaired passengers can navigate the carriages more easily. Two additional bicycle spaces will be installed on each train.
The consortium has collaborated with disability advocacy groups in the Netherlands: (Leder[in]/Everyone[in] and Oogvereniging/Eye Association), who have been involved in both the design and testing of the facilities.
Upon completion of the upgrade the Sprinter Lighttrains will provide a much higher standard of accessibility and comfort for passengers with physical disabilities.
Two of the upgraded trains are already in service and a third will become operational in the near future. The feedback from passengers on these trains until the end of 2018 will be used by NS to assess any changes to the upgrades planned for the remainder of the fleet.
The consortium is completing the upgrades at Talbot Services in Aachen, Germany, a former Bombardier site. Each upgrade requires two weeks of work and only two trainsets can be upgraded at any one time. The numbers of accessible trains in service will gradually increase until the project is finished in 2021.