Railway-News Test Headsets from Imtradex's BusinessLine Series
Review of Imtradex BusinessLine 3000 XS and BusinessLine 3000 XD Flex headphones:
Railway-News were lucky enough to try out these two headsets from Imtradex. The difference between them is that one has one earpiece, the other has two.
The communication solutions from Imtradex are now also being used by railway companies: the table microphones and hand-held microphones, as well as headsets from the manufacturer's BusinessLine series, meet the special requirements of the railway workers and the control centres of transport companies.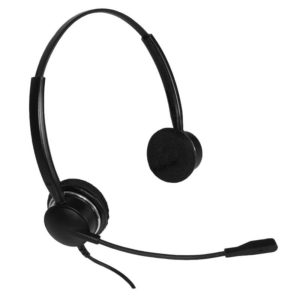 Headset With Flexible Microphone
The 'Flex' part of the name refers to the fact that the microphone arm is flexible; this is obviously useful for the headset with just one earpiece as you can choose what side to wear that on. For the headset with two earpieces this functionality allows you to choose what side your cable is on.
Noise-Cancelling Microphones
Both of these headsets feature noise-cancelling microphones – not surprisingly, as they were designed for call centres. We have some staff at Railway-News who have to work on the phone a lot and this functionality is really nice as it provides the peace of mind to know that the person on the other end of the line isn't hearing a lot of unnecessary ambient noise. If the line isn't good, people won't enjoy the call and that's bad for business, so a microphone like this is definitely useful.
In a louder environment, the monaural headset will be less helpful to the wearer despite the microphone being noise-cancelling because you'll still want to hear your own conversation so that should be kept in mind.
Lightweight Headset for Communication
Another immediately obvious plus of these headsets is that they are extremely lightweight and therefore comfortable to wear throughout the working day. I have another set of noise-cancelling headphones that I use when I don't have to speak on the phone. These are heavier and are also not comfortable when wearing glasses. The Imtradex headsets don't cause any discomfort to anyone wearing glasses.
The headsets we were supplied with came with an AK4-USB adapter to allow VoIP telephony.
The Imtradex headsets are made in Germany – an international signifier of quality and reliability.
For more information, please click here.