Railway Forum 2023: Shifting the Paradigm of Transportation with ASC Sensor Innovation
On September 6th and 7th in Berlin, Germany, Europe's leading management conference for the rail industry will take place: Railway Forum 2023. More than 1,500 decision makers and specialists from the international railway industry, rail and network operators, infrastructure managers, suppliers and government officials will meet to discuss a major mutual goal: shifting the paradigm of transportation.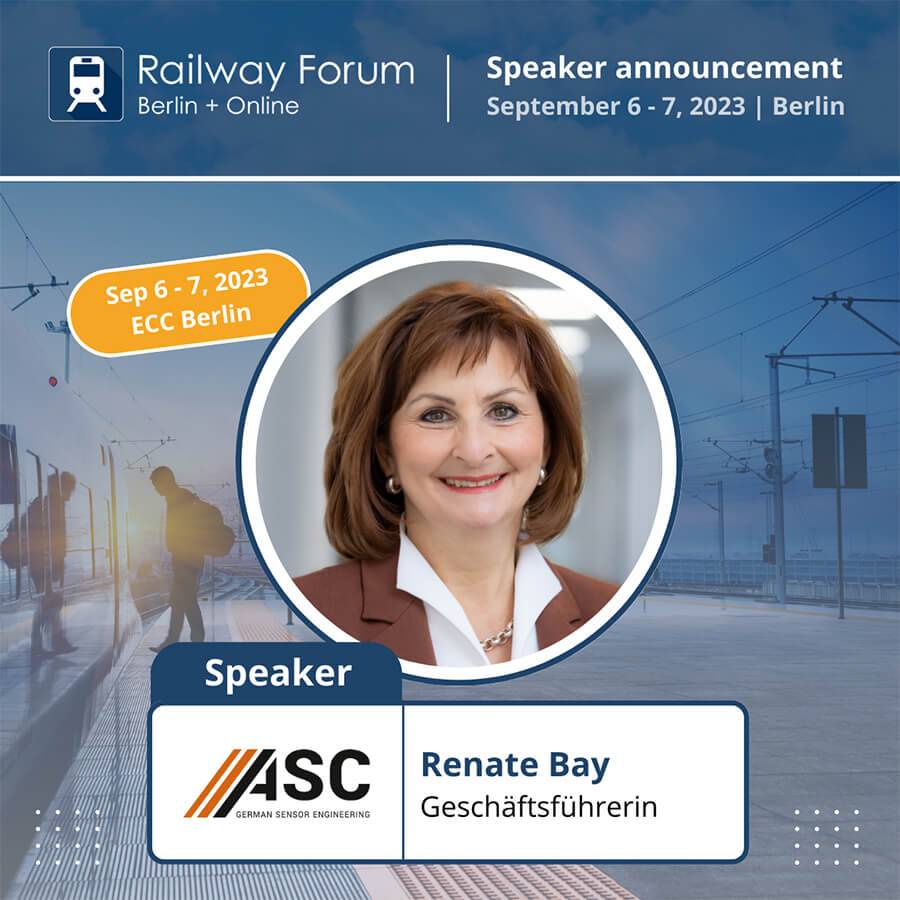 Shifting the Paradigm for the Future
"Smart inertial sensor solutions play a critical role in accelerating and increasing the capacity of rail transportation as a sustainable transport solution for the future.
"In addition to other important transportation alternatives, the share of sustainable rail mobility is steadily increasing – including metro, long-distance and freight transport. Our highly specialized solutions tailored to the exact needs of each individual rail and infrastructure provider help make a giant step towards that future."
At the Railway Forum, leading European and global manufacturers from the rail and infrastructure sectors will display their latest innovations. At booth C04, ASC will showcase its comprehensive range of high-precision accelerometers, gyroscopes, IMUs as well as the latest "smart" digital sensor solutions for the monitoring of trains, tracks, track bedding, bridges, tunnels, buildings and further infrastructure components.
Continuous Infrastructure Monitoring at 300 km/h
In a collaboration with DB Systemtechnik, for instance, ASC sensor technology is currently being integrated to facilitate the continuous real-time monitoring of infrastructure from high-speed passenger trains at Turkish State Railways (Continuous Infrastructure Monitoring, CIM). The goal is to increase capacity as well as ride comfort on several newly built high-speed links from the capital of Ankara, without having to slow down or disrupt regular rail traffic.
To that end, a Siemens Velaro high speed train has been equipped with the latest technologies to conduct all necessary measuring activities in real-time. Future risks will be proactively identified, too, by integrating historic data and calculating the appropriate time for preventive maintenance, repair or replacement to take place.
Extremely robust and stable ASC sensors enable this 'high-speed duty'. Learn more here or visit us at our Railway Forum booth.
New Digital Accelerometer Ready for Rail Application
Another innovation is going to be premiered by ASC at Railway Forum 2023: the triaxial digital accelerometer ASC DiSens® ECO-Rail-3325 (CAN), which was developed for a DRS Alliance project. It recently passed the rigorous tests according to EN 50155 (IEC 60571) and was approved to this important German and international standard in July this year. This norm stipulates demanding minimum requirements for electronic devices used on any rolling stock in railway applications. This includes temperature resistance, moisture protection, shock and vibration resistance and many more parameters.
"Integration in the train's digital network via the digital CAN interface and compatibility with the 24-volt power system are additional features that make our latest digital accelerometer particularly suitable for rail applications."
Visit us at Railway Forum 2023, September 6th-7th in Berlin
Booth C04
Presentation "Verkehrswende beschleunigen – Innovative Sensorlösungen von ASC machen's messbar", September 6th from 3:10 to 3:20 pm, room "Europa"
This article was originally published by ASC Sensors.