From March 15-17, 2023, one of the largest business-to-business rail transit expos across the Asia-Pacific region took place in Nanjing, China.
The 16th China International Rail Transit Exhibition, also known as Rail+Metro China, attracts more than 12,000 industry professionals and over a hundred exhibitors showcasing the latest technologies and product innovations. Amongst this elite crowd: Jason Ji, General Manager of ASC's China sales office.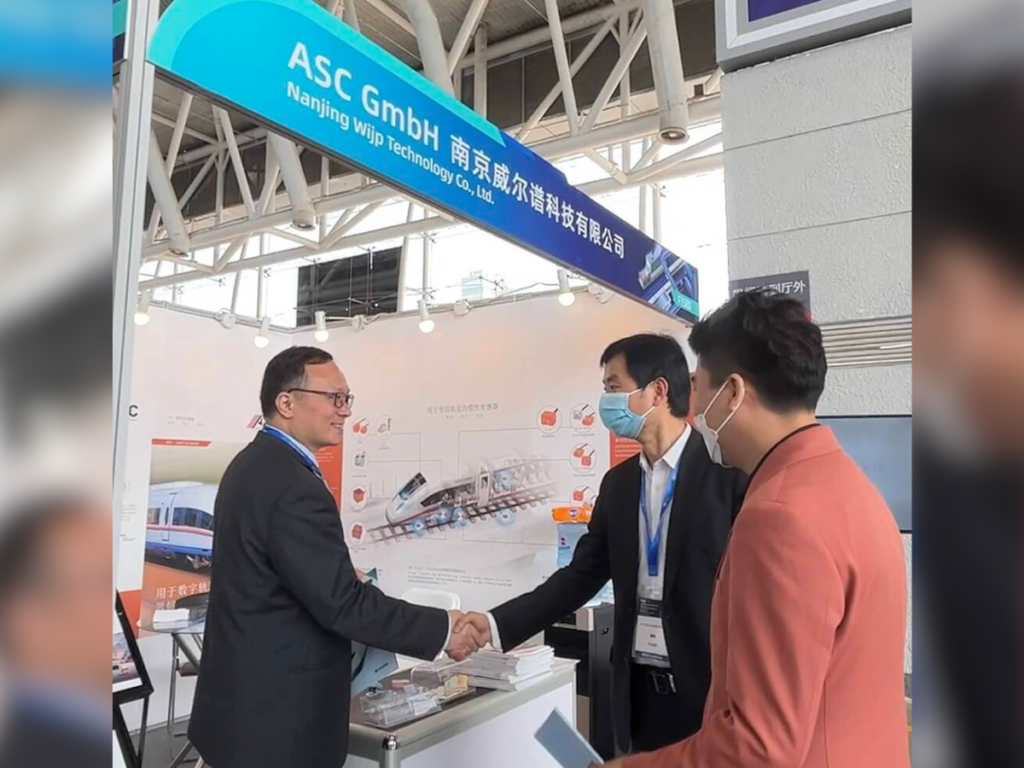 What's Your Role at ASC?
To represent the company in the important Chinese market and to service ASC's clients, projects and sensor applications in the region, we opened a sales office in Nanjing city, Jiangsu Province, China. As the General Manager, I've been leading that sales office for over two years now.
Why Is a German Company Entertaining an Office in China?
Having a direct presence in the region helps us stay in close touch with customers and stakeholders and to develop a better understanding for their needs. It provides superior insights to national, regional and local government strategies and policies with regard to the use of sensor solutions. Also, being embedded in the country helps us understand and meet industry standards and other guardrails governing the use of sensors in China and the region. To create value for our customers, it's critical to be able to match all these components with the right sensor technology from our portfolio that best meets each customer's individual needs.
How Do You Stay on Top of the Needs of Chinese Customers?
At our China sales office, we keep in regular personal contact with existing customers and our wide business and stakeholder network. In addition, we seek to connect with new audiences and build relationships through trade fairs, seminars, lots of in-person meetings as well as social media and online promotions.
Why Did ASC Decide to Exhibit at Rail+Metro China?
We carefully choose to participate in trade exhibitions that help us connect and stay in touch with relevant stakeholders and industry professionals. Rail+Metro China is the most influential business-to-business platform in the field of rail transportation in China. With our proven track record of successful smart sensor solutions already implemented on German rail tracks, engines and infrastructure as well as in other markets, ASC wants to showcase our capabilities in China, too. To support the digitization of railroads and innovate the safety, capacity and efficiency of rail mobility in this large country.
Can You Share a Few Impressions from This Exhibition?
Rail+Metro China 2023 was the first major exhibition of the year for the Chinese rail industry. It was also the first time this trade show could take place again after the pandemic. This year's motto was "Integration – Green – Intelligence". Around 120 local and foreign companies demonstrated their latest technologies, products and services to over 12,000 visitors including many government officials and transportation department leaders, rail experts, infrastructure operators, manufacturers and suppliers.
What ASC Solutions Are Attendees Interested In?
At our expo booth, we highlighted various ASC inertial sensor solutions in rail-specific settings, including an ASC smart sensor demonstration kit and the case study of ASC's smart sensor box for the continuous track monitoring at DB Systemtechnik, Germany's rail infrastructure operator. The audience was impressed with this.
Some visitors enquire about general ways to address their measuring needs. Others want to learn about specific sensor products and what qualifies those to solve a certain challenge; yet others arrive with an exact case in mind and ask directly about implementation timeline and price range to assess the feasibility. Many of the conversations struck at the expo will continue with detailed follow-up meetings in the coming weeks.
Why Are Chinese Customers Interested in German Technology – What Reputation Does Germany Have in China?
Chinese professionals are typically very interested in German products and, specifically, in our ASC smart sensor solutions. It helps that ASC can already show specific projects executed in Europe and other regions, where our sensor solutions play a critical role in the monitoring of transport infrastructure as well as the predictive analysis of future trends and developments. So that bridges, tunnels, buildings, tracks or rail engines and carriages can be repaired and key components replaced timely, before an expensive breakdown happens.
In the minds of most Chinese, "Made in Germany" translates to high precision, high quality and long-term stability. But at the same time, high-quality German products are generally regarded as "expensive". At ASC we're working hard to match high-quality customized solutions with competitive pricing so that more of our clients – and their railway passengers and freight customers – may benefit from our proverbial German quality.
What Opportunities Do You See for ASC in China?
With its rapid industrial and societal development, China is a huge market for European companies. ASC is definitely one of the leading designers and vendors of inertial sensor technology in the world. Our sensor solutions can play a critical role in the further development of China's industry, its infrastructure, transport, research, public and personal mobility and many more areas.
This article was originally published by ASC Sensors.