Work on the second section of the new sea wall at Dawlish has begun using the 'Wavewalker'.
The railway line, which runs right along the sea front between the Teign and Exe estuaries, is the only railway link into the southwest beyond Exeter, calling at Newton Abbot, Plymouth and Penzance in Cornwall. It was badly damaged during a barrage of severe winter storms in 2014, causing the railway line (also damaged) to close.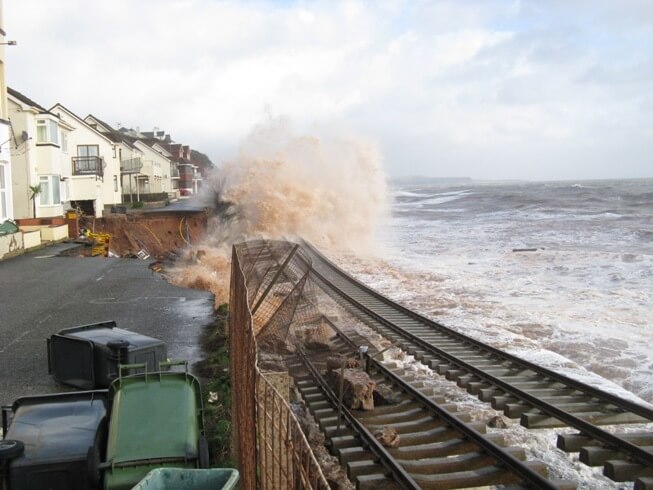 Network Rail has begun work on the next section of a new, bigger sea wall to protect the railway line from rising sea levels as well as extreme weather events.
The full upgrade to the sea wall will cost 80 million GBP. Work on this section will take two years, following the creation of detailed studies produced in collaboration with marine, coastal and railway engineering experts.
The sea wall between Dawlish station and the Coastguard breakwater (east of the station) should be completed by the end of 2021. Construction of the sea wall between the station and the Colonnade breakwater (west of the station) will connect to Marine Parade and will begin shortly afterwards.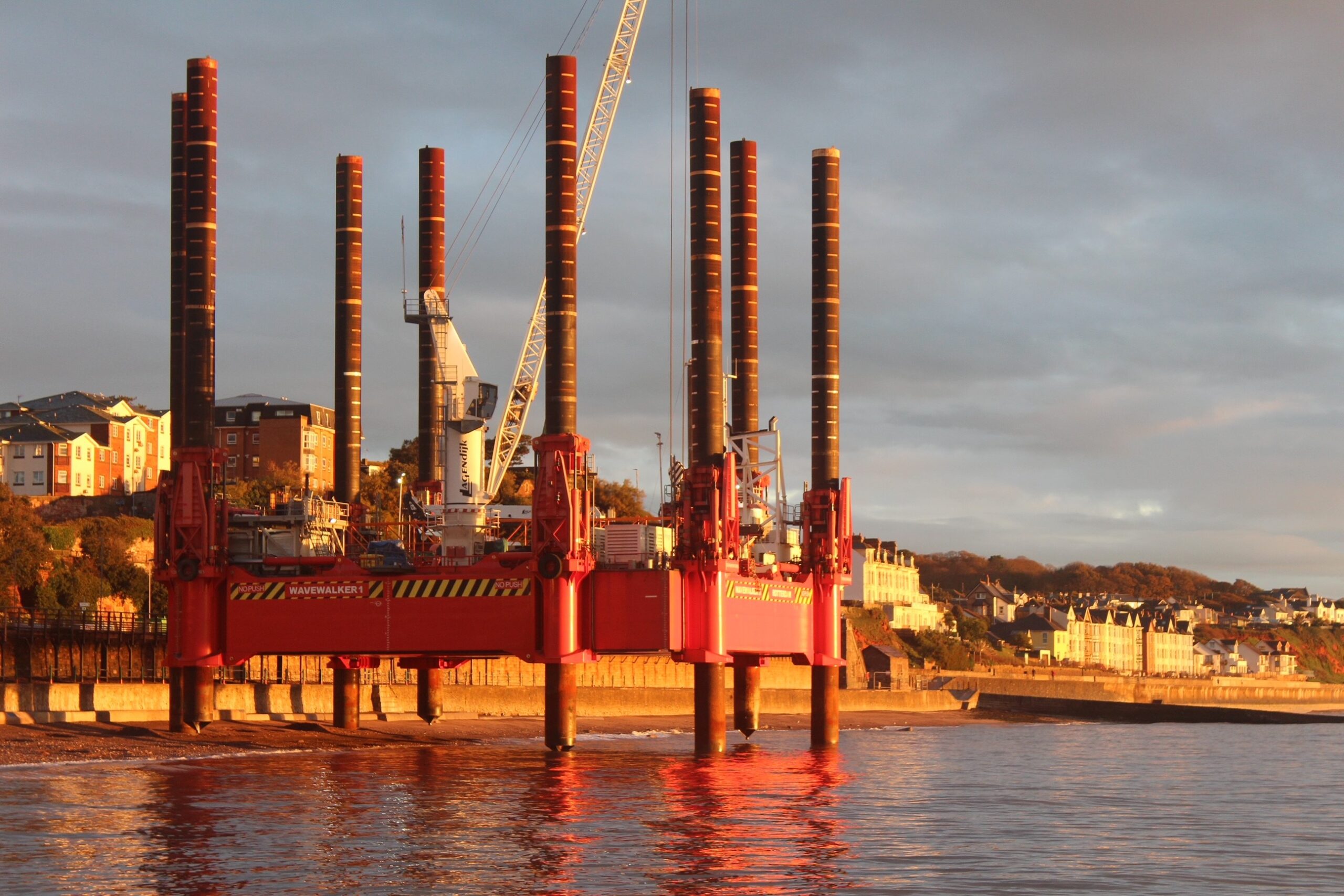 © Network Rail
The Wavewalker
To deliver the work on the sea wall, Network Rail is using an "eight-legged, self-contained walking jack-up barge", called 'Wavewalker'. Never before has any part of Britain's railway network been maintained using a Wavewalker.
Contractors BAM Nuttall will use the Wavewalker to access the sea-facing side of the railway embankment along Marine Parade in order to deliver the piling for the sea wall. The Wavewalker can be used across high tidal ranges – a feature of the south Devon coastline. Without it, the hours during which work on the sea wall could take place would be severely limited.
"The jack-up barge allows us to work safely on the foundations of a new sea-wall on a 24-7 basis, regardless of tides. Using the WaveWalker to deliver this phase of work means we can complete the work more cost effectively, allowing us to minimise impact on passengers whilst significantly reducing the time that this work impacts the local community."
The new sea wall, measuring 415m in length, will be higher than its current counterpart. It will have a curved edge designed to deflect water back out to sea. The promenade will also be wider and feature an accessible station footbridge with lifts. Network Rail first revealed its plans for this section of the sea wall in May 2020.
"We are thrilled to have started work on delivering the next section of this vital upgrade that will protect the rail artery to the south west for the next 100 years.
"Our plans have been drawn up by world-leading engineers and it will provide greater protection to the railway and town from rising sea levels and extreme weather.
"We will continue to update the community with how our work is progressing."
Also read: