nVent SCHROFF Space-saving Cabinets Create More Room Onboard Multi-unit Trains
Many exciting advancements exist in the world of rolling stock, including the proliferation of high-speed rail and emergence of autonomous, driver-less technology. Another significant trend is the rise of multiple-unit trains (MUs), which are replacing traditional locomotive-hauled trains in numerous areas of rail services, especially local and regional passenger transit.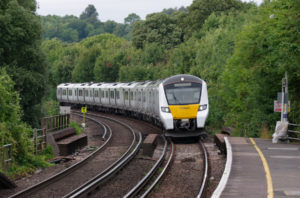 According to the industry press, the world market for regional and suburban multiple-unit trains is growing at about 9 percent per year. MUs, which can be powered by electricity or diesel, comprise a set of self-propelled, interdependent railcars typically featuring driver's cabs at either end to form a trainset. Multiple-unit trains also feature several motors, traction control and communication systems and other types of equipment distributed across several vehicles of the trains.
The amount of vehicle space taken up by this equipment presents a challenge for MUs, expecially considering that next generation MU rolling stock is built with an increasing amount of electronic equipment, including advanced train control and wireless communication systems, as well as embedded computers and IoT ("internet of things") integrated devices. In addition, creating more rider-friendly interiors is another goal for MU train builders. A major rolling stock manufacturer recently announcing plans to produce MUs with greater floor height to accommodate passengers with reduced mobility. nVent SCHROFF provides enclosure solutions that help MU train builders integrate electronic equipment efficiently to maximize usable onboard space.
nVent SCHROFF Varistar, the Space-saving Solution for Onboard Electronics
The nVent SCHROFF Varistar cabinet is the perfect space-saving solution for onboard electronics with its high mechanical stability and a modular platform, which can be modified to meet just about any onboard requirement. The Varistar recently was used to help a major MU train manufacturer overcome spatial limitations to integrate the train control unit into the driver's cab. For this project, accessing electronics from the driver's cab was a crucial part of the design. To minimize the footprint of the electronics cabinet while allowing easy access to the panels inside, the Varistar included a swing frame. In a swing frame configuration, the door itself holds electronics and swings opens to allow access to the back panel, which typically contains wiring to inputs/outputs and is necessary for maintenance. Without the swing frame, accessing the back panel electronics in the cabinet would either require the broad (panel) side of the cabinet to sit perpendicular to the cabin wall, obstructing the cab walkway, or removal of the front panel electronics in order to access the back. With the flexible, modular design of the Varistar, configuring a swing frame was a simple modification, and is one of many customizable assembly options.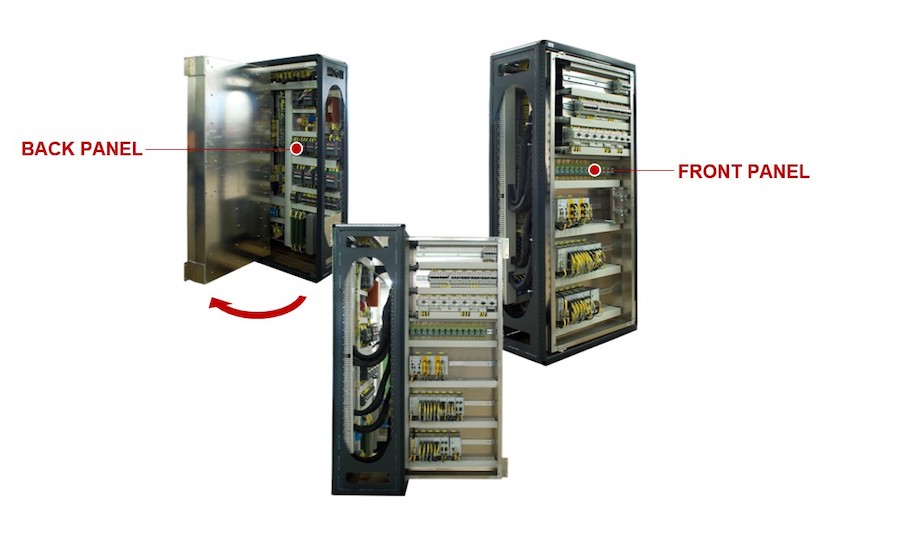 Meeting Global Railway Standards
The nVent SCHROFF Varistar meets strict rail specifications related to shock and vibration, fire safety, and EMC shielding. This cabinet is specifically tested and certified for railway use, with designs and configurations for onboard and trackside (indoor) applications. Some of these key certifications include:
IEC 61 587-1 and EN 50155 for smooth performance against shock and vibration
EN 61000-5-7 and IEC 61587-3 for advanced EMC shielding, up to 10 GHz
IEC 60529 for ingress protection, up to IP55
EN 45545-2 for 'low smoke zero halogen' compliant EMC + IP55 gaskets
CENELEC EN50125-3 certification for trackside use (1-3 m from the track)
AREMA 11.5.1 class C (designed to meet U.S. railway standards for trackside use in bungalows)
As railway technology advances and MU trains continue to gain market share, nVent SCHROFF stands ready with innovative onboard space-saving cabinets that are essential to the connection and protection of sensitive electronics.