Modernizing aging equipment for rolling stock presents unique challenges such as installing more electronics in on-board locations where space is at a premium.
Installing a greater number of IIoT devices and interconnected electronic systems on board is a balancing act to maximize space while creating rider and operator friendly interiors.
This eBook will discuss applications where rolling stock and signaling manufacturers are able to deliver railway certified, robust and safe designs while overcoming the challenges presented by upgrading legacy equipment or adding new technical hardware. Topics include;
Retro-fitting – Modernizing aging on-board equipment.
Adding new electronics – Ensuring safety for passengers and operators.
Maximizing limited space – Providing full access to electronics and control units.
Increasing cost efficiency – Enabling global delivery and easy installations.
Download the new E-Book from nVent SCHROFF and learn how to meet the challenges of modernizing rolling stock.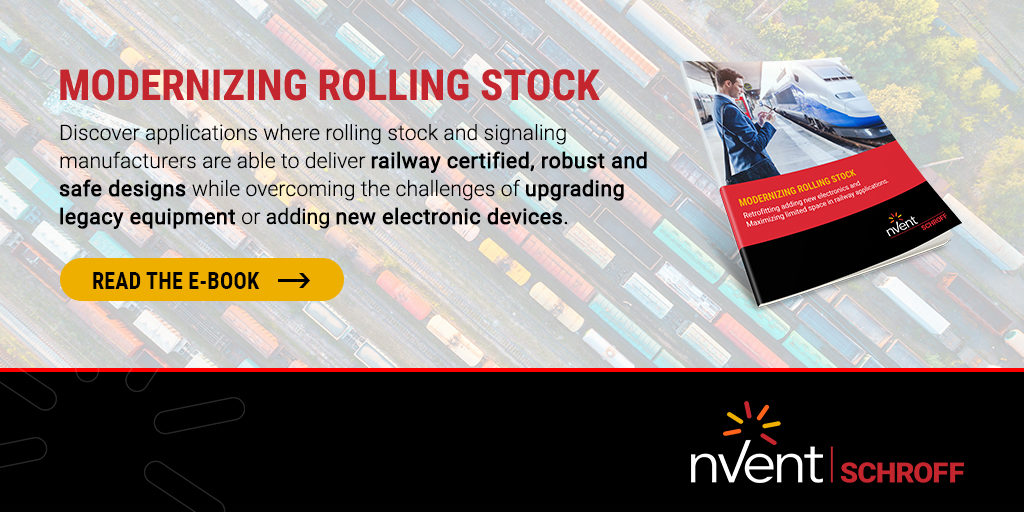 About nVent
nVent provides solutions that connect and protect critical railway infrastructure and systems, improving safety and reliability throughout the network. We offer innovative, high-quality products for critical electrical and electronic systems throughout the railway network. Through our powerful portfolio of brands that include nVent ERICO, ERIFLEX, HOFFMAN, RAYCHEM and SCHROFF, we provide electrical connection solutions for trackside and on-board applications, surge and lightning protection, trackside heating solutions, and enclosures for trackside signalling and on-board systems. Our portfolio of industry-leading products is designed to meet international railway standards. With a manufacturing and sales presence in every key rail market, we serve a global base of customers that includes railways, system integrators, rolling stock manufacturers and major rail equipment OEMs.