The rail plays a central role in the wheel-rail-system. It must both guide the wheel and absorb any frictional forces that arise. In order to reliably fulfill these functions, regular maintenance intervals and predictive maintenance are of crucial importance.
The interaction of wheel and rail brings movement to passenger and freight traffic. While the rail wheel moves the train, the rail provides the necessary surface for the movement. Only the optimal interaction can guarantee the transport of passengers and goods. The forces acting in the process are absorbed by the wheel-rail-system and converted into motion.
High Pressure on a Small Surface
Both freight and passenger trains move heavy loads at high speed, thus strong forces act on the wheel and the rail. Since friction is synonymous with energy loss, the design of the wheel-rail-system aims at creating as small of a friction surface as possible. This is usually around 200 mm2, which corresponds to a slightly longer fingernail.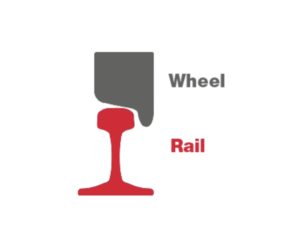 A Rail With Profile
In the heavy rail sector, the use of the so-called vignole rail has proven its worth. The special shape of this rail was developed over the course of history and was optimized for its specific requirements. The specific cross-section of the vignole rail is of particular importance.
In addition to the high resistance and load-bearing capacity of the material, its ductility (deformation) also plays an important role. When a train rolls over the tracks, pressure and friction are generated – as mentioned above – at a very small point. These forces are absorbed by temporary compression of the rail head and bending stress of the rail base. The base and web of the vignole rail serve as corresponding anchors in the track bed.
An important factor influencing the deformation and stress of the rail is the area moment of inertia. This parameter indicates how great the resistance of a cross section is to deformation. The cross section of a vignole rail optimizes the area moment of inertia and is therefore ideal for rail traffic.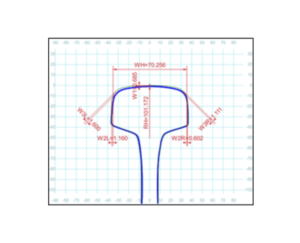 © NEXTSENSE
Maintenance and Repair of Rails
The immense forces affecting rails contribute to their wear over time. Other damaging factors are caused by atmospheric conditions and storms. Thus, the regular inspection of the infrastructure for damage and wear is of central importance.
The CALIPRI hand-held measuring devices record the profile of the rail using patented technology based on the laser light section technology. Enabling the check of wear parameters as part of ongoing maintenance measures – both for vignole rails (railroad) and grooved rails (tramway).
Find out more about our CALIPRI measurement devices here.