The East West Rail project, which will connect Oxford and Cambridge via Bicester and Milton Keynes will receive 760 million GBP in government funding for construction works.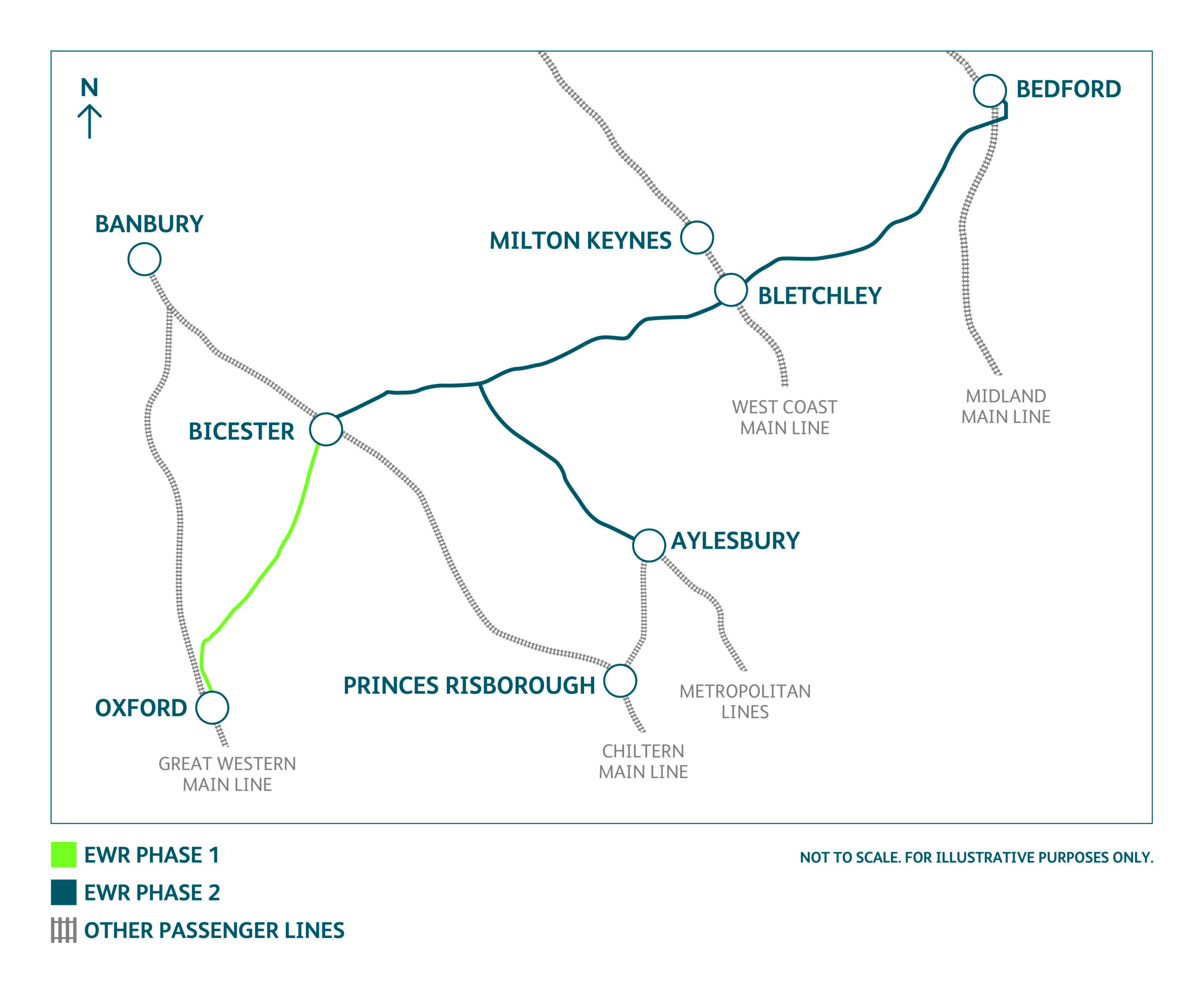 The funding is for stage 1 of phase 2 the project – the line between Oxford and Bletchley/Milton Keynes. It is hoped that this section of East West Rail will be able to start carrying passengers in 2025.
The line that originally connected these two cities, the Varsity Line, was closed down in the 1960s.
"Restoring railways helps put communities back on the map and this investment forms part of our nationwide effort to build back vital connections and unlock access to jobs, education and housing.
"Returning these routes to their former glory, and progressing work to reopen even more lines and stations, shows our commitment to levelling up journeys across the country as we build back better from the pandemic."
Overall, the project will be implemented in three phases and each phase will start carrying passengers as soon as it is implemented. They are:
Stage 1: Oxford to Bletchley and Milton Keynes
Stage 2: Oxford to Bedford (i.e. Bletchley/Milton Keynes t0 Bedford)
Stage 3: Oxford to Cambridge (i.e. Bedford t0 Cambridge)
There are no plans to electrify this new railway line. The trains will be diesel-powered. When quizzed about this decision by the BBC, Grant Shapps suggested that "more environmentally friendly" trains could eventually run on the line, citing hydrogen and battery-powered trains as an option. Mr Shapps also seemed to think that electrification would be unnecessary as the line could "bypass" electrification technology.
Daniel Zeichner MP, who represents Cambridge, has been concerned about the rolling stock on the East West Rail line for some time. When East West Railway Company issued an invitation to tender in the Official Journal of the European Union (OJEU), Mr Zeichner said it sounded like diesel, in response to which he wrote to the transport secretary seeking urgent clarification.
"This simply doesn't square with the pledge given by the East-West Rail Chairman that he would 'not be buying a single litre of diesel'. This is deeply troubling especially when full rail electrification has been put back on the table. I back rail but we need 21st century solutions and that means an electrified, public railway. I very much hope the company has not been green-washing us while plotting to use diesel all along, as that could mean public support coming off the rails."
The East West Railway Company was created by the Department for Transport in 2018. It is responsible for planning the section of East West Rail between Bletchley and Cambridge and overseeing the delivery of the section between Bicester and Bletchley, which is being delivered by the East West Rail Alliance.
"We are delighted that the Government has made this significant investment decision for East West Rail and the Oxford Cambridge Arc. This means we can now get on with the construction work and connect communities who live on the East West Rail route."
The line between Oxford and Bicester was completed in 2016. The section between Bicester and Bedford received approval from the transport secretary in February 2020, allowing the main construction work to start.