MERMEC Measuring Vehicle ordered by Finnish Transport Agency
MERMEC have won a contract from the Finnish Transport Agency relating to the provision of a MERMEC measuring vehicle which will provide measurement and inspection services for the whole national rail network. The network stretches a total of 5,960km, 630km of which are double or multiple lines. The contract will come into force from January 2019 and last for ten years. It contains an option to extend for a further five years.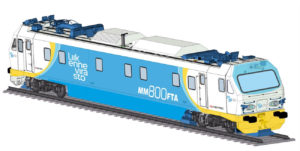 MERMEC will therefore spend the coming two years developing a measuring train which meets European standards. The special measuring vehicle will be a bi-mode diesel-electric train which is capable of travelling at 160km/h. It will be fitted with a range of of automatic measurement and inspection systems which can pick up any critical issues which could impact the safety of movement. It will also evaluate the infrastructures' operating conditions which will inform predictive maintenance and renewal.
The MERMEC measuring vehicle will be designed and equipped to operate on the entire national network of high-speed lines, which stretch from urban centres in the south of Finland to the north where the temperature and weather conditions are extreme.
MERMEC's team of experts, who will work on the project on site, will co-ordinate their vehicle runs with the Finnish Transport Agency. They will also perform measurement campaigns, process the data in an integrated manner and produce periodic reports on the work progress and ofcritical issues. The reports will deliver data, analysis, classification of critical issues, trends and projections that will allow for efficient and effective planning of railway infrastructure maintenance.
MERMEC will carry out ordinary and extraordinary maintenance of the measuring vehicle and its supply of optoelectronics. The systems include those which measure track geometry, rail profile, rail corrugation, switches, ride comfort, catenary geometry and contact wire wear. They will be integrated with a new high-performance ultrasound system which can pick up any internal rail defects that could be exacerbated by extreme temperature fluctuations such as those found in the Finnish climate.